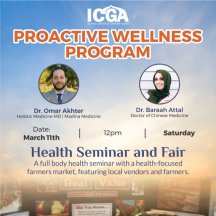 Description:
Join us for a health seminar with Dr. Omar Akhter and Dr. Baraah Attal as guest speakers as we talk about developing health habits, curing our ailments, and preventing new ones. The seminar will also host a health-focused farmer's market with local vendors and farmers.
Vendor Application: https://forms.gle/PukZF5MofpuDbsvB6
Our bodies are a trust from Allah subhanahu wa ta'ala through which we serve Him.
Find the best ways to care for yourself, so you can feel your best and serve your Lord completely.
LOCATION
Islamic Center of Greater Austin – 5110 Manor RD. Austin, TX, 78723
---
Location:
Islamic Center of Greater Austin
5110 Manor RD
Austin , Texas 78723 United States
+ Google Map

---
More upcoming events