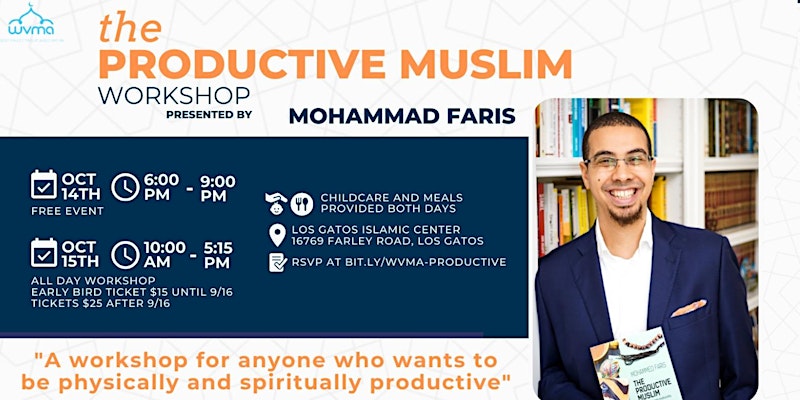 Description:
he Productive Muslim – Barakah & Productivity
What does it mean to be productive from a faith perspective? How do we manage our energy, focus, and time with Barakah?
Join us on Saturday, October 15th, 2022, for a fun and interactive workshop with Mohammed Faris, author of the best-selling book "The Productive Muslim: Where Faith Meets Productivity," to learn practical strategies to answer the above questions and walk away with practical strategies to live a life of meaning and impact.
Schedule:
10:00 am- 11:00am: Barakah – The Missing Soul of Productivity
11:00am – 11:30am: Break
11:30am- 1:00pm: How to Manage Nutrition, Fitness, and Sleep
1:00 – 2:00 pm: Lunch and Dhuhur
2:00 – 2:30pm: Power nap! (Yes, everyone, I will power nap :))
2:30 – 4:00: How to manage focus in the age of distraction
4:00 – 4:30pm: Break
4:30 – 5:15pm: Q&A and Wrap up
---
Location:
West Valley Muslim Association
16769 Farley Road
Los Gatos , California 95032 United States
+ Google Map

---
More upcoming events