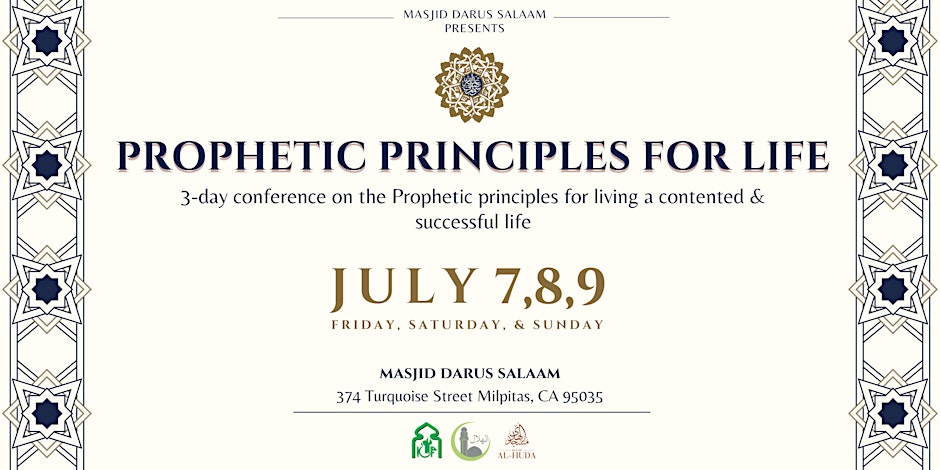 Description:
Prophetic Principles for Life Conference
3 Day Conference at Masjid Darussalam Milpitas starting July 7th, 8th, & 9th | Friday, Saturday, & Sunday
Based off the book compiled by Shaykh Tameem Ahmadi – Prophetic Principles For Life: 40 Hadith on Attaining A Life of Contentment and Success
Allah ﷻ has blessed us with the gift of Islam, which is a complete way of life. The one who fully embraces its teachings will attain true contentment, peace, and harmony. As Allah ﷻ mentions in the Qur'an:
"And whosoever does righteous deeds, be it male or female, believing, then We Shall assuredly give them a pure and peaceful life in this world.; and We shall recompense them their reward for the best of what they used to do." (Surah al-Nahl, 97)
We are reminded by Allah ﷻ that purity, peace, and contentment come from living a life of righteous actions and faith in Allah ﷻ. In order for us to learn how to obtain all of these, Allah ﷻ sent us our beloved Prophet Muhammad ﷺ as our teacher and guide.
Through his teachings and being an example himself, our beloved Prophet Muhammad ﷺ has taught us numerous prophetic principles for us to live our lives in relation to the self, Allah's creation, life and the world around us, and Allah ﷻ.
Join us for this 3-day conference and learn various prophetic principles in relation to these 4 areas and aspects of our lives in order to obtain purity, peace, and contentment.
This 3-day conference is free and is for both Brothers and Sisters of all ages.
Speakers
Shaykh Tameem Ahmadi, Mufti Nawaz Khan, Mufti Saad Khan, Shaykh Kawsar Hossain, Mufti Ruhullah Bayanzai, Shaykh Jabir Tarin , Mufti Shadman Ahmad, Shaykh Abdullah Rashid, Mufti Kamran Abid, Mufti Ehsan Osmani, Ustadha Safiyyah Ali, Ustadha Umm Hamza, Ustadha Ammarah Bholat
Topics
To be released soon
Itikaaf Program
There will be a special itikaaf option for brothers. Be sure to register for this ticket as space is very limited.
---
Location:
Masjid DarusSalam, Milpitas
374 Turquoise Street
Milpitasx , California 95035 United States
+ Google Map

---
More upcoming events