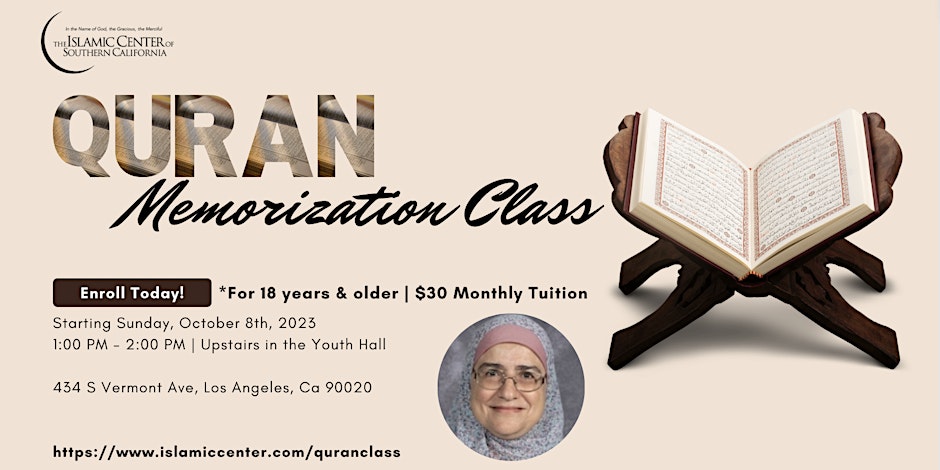 Description:
Join us for our Qur'an Memorization Class every Sunday, running parallel to our Sunday School Schedule. This class provides an opportunity for individuals of all ages and backgrounds to deepen their understanding of the Qur'an and develop the skill of memorization.
Date: Every Sunday starting October 8th, 2023
Time: 1:00 PM – 2:00 PM
Location: ICSC Prayer Hall
Address: 434 S Vermont Ave, Los Angeles, CA 90020
In this class, our knowledgeable and experienced instructor, sister Amal Elhoseiny, will guide you through the process of memorizing the Qur'an, ensuring that you grasp the meaning and context of the verses you are learning. Whether you are a beginner or have prior experience, this class is designed to cater to all levels of proficiency.
By participating in this Qur'an Memorization Class, you will not only enhance your recitation skills but also develop a stronger connection with the divine words of the Qur'an. It is a wonderful opportunity to engage with fellow community members, share insights, and gain valuable support on your journey of Qur'an memorization.
Take advantage of this valuable resource to strengthen your relationship with the Qur'an and foster personal growth.
We look forward to seeing you every Sunday as we embark on this enriching Qur'an memorization journey together. May Allah bless us all in our efforts to connect with His divine words.
---
Location:
Islamic Center of Southern California
434 Vermont Avenue
Los Angeles , California 90020 United States
+ Google Map

---
More upcoming events