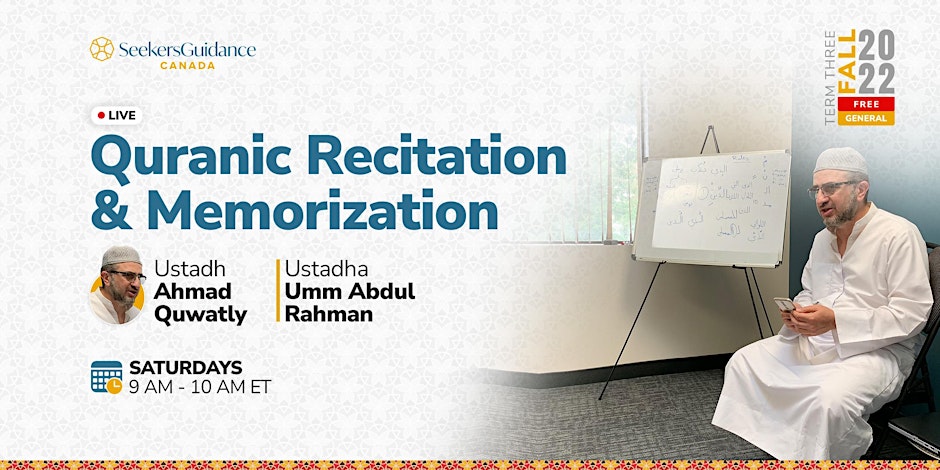 Description:
The science of tajweed is the study of how to read the Arabic text of the Quran accurately and proficiently. It is a skill that all Muslims should have, however many of us struggle with this (especially living in the West) due to many factors:
not being taught properly in childhood
lack of access to teachers with ijaza in this science (i.e. permission to teach by qualified teacher)
not reviewing material previously taught
not having friends who are concerned about if/how they can recite the Quran properly
Please take advantage of this opportunity where you can study how to read the Quran and improve your recitation, all for free! Reading the Quran in Arabic is a lifelong skill that one should aim to develop, and there is tremendous reward for learning how to read and being able to do so proficiently.
This class is for anyone 13 and above, as the target audience are adults & teenagers who want to learn and did not have an opportunity to complete their studies in this field.
There is a separate teacher for the men and women. A separate zoom link will be provided for each section, and will be sent to all registered attendees on Fridays insha Allah (as a reminder email).
The brothers section is in person and online at 9am ET. The link is sent to those who register for the event. (Class will be online only until November 12th.)
The sisters section is online only at 10am ET (due to the instructor living far from our centre).
Any questions can be directed to [email protected]
Instructors:
Ustadh Ahmad Alquwatly was born in Damascus, Syria and as a young boy grew up in Kuwait. He learned Qur'an recitation from his father Alhafiz Mamdouh Alquwatly (who had learned from the Shaykh of Damascus Shaykh Abel Wahhab Dipswazet). Shaykh Ahmad graduated from Dar Al- Qur'an in Kuwait with a degree in Qur'an and Islamic Studies. He has been teaching Qur'an in the GTA since 2005 at various Islamic centres.
Ustadha Umm Abdul Rahman has studied tajweed extensively and has her ijaza in recitation.
---
Location:
SeekersGuidance Canada
220 Britannia Road E
Mississauga , Ontario L4Z 1S6 Canada
+ Google Map

---
More upcoming events