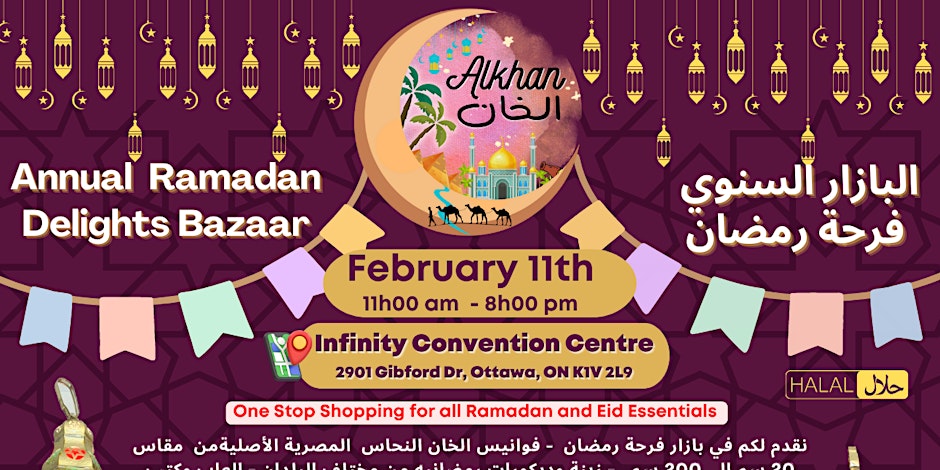 Description:
الخان كندا رجع لكم زي كل العام بفضل الله وتوفيقه عشان نقدم بازار فرحة رمضان
استمتع بأجواء بلادنا في كل ركن وكأنك في خان الخليلي في مصر أو في قلب بلادنا العربية
الفوانيس النحاس الأصيلة المصنوعة يدويا بإيدي محترفين، قماش الخيامية والعطور والبخور العربية، القهوة العربي المميزة، ملابس الصلاة للرجال والنساء والسبح والمسواك وأجود أنواع التمور. سيتم توفيرالكتب التعليمية والرمضانية وفي ركن رمضان زمان ممكن تاخد أحلى صور مع ديكورات رمضانية الأأصيلة تفضل ذكرى جميلة. الى جانب الهدايا والخصومات المقدمة من العارضين ومسابقات للأطفال ورسم حنه. والمطابخ الشهية من مختلف البلاد العربية وكلهم بيقدموا افكار لوجبات مجمدة ممكن تتخزن لشهر رمضان باذن الله
We are happy to welcome you to our annual Ramadan Bazar, one-stop shopping for all Ramadan decorations and essentials along with over 30 diverse vendors and multi-cultural cuisine for all tastes.
Get prepared and encourage your children to start fasting Ramadan and learning more about the holy month with our motivational speakers.
Enjoy free giveaways and interesting competitions.
Authentic Ramadan Lanterns shipped specially from Egypt to the heart of Canada all handcrafted and made with love and care.
For more details,
Stay tuned
---
Location:
Infinity Convention Centre
2901 Gibford Drive
Ottawa , Ontario K1V 2L9 Canada
+ Google Map

---
More upcoming events