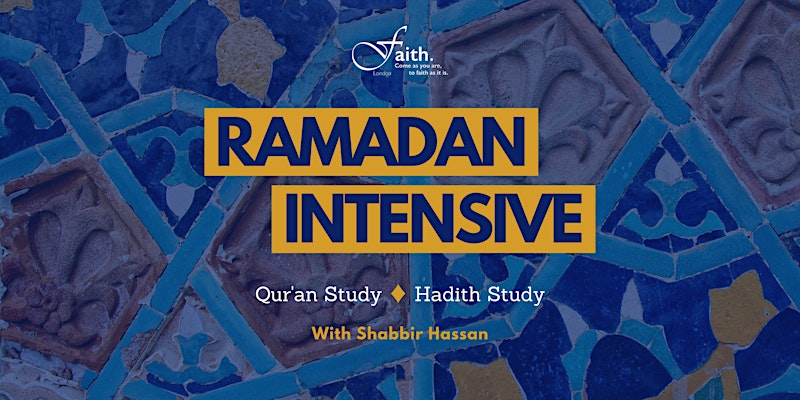 Description:
A unique spiritual development programme focusing on Qur'an & Hadith study delivered online throughout the month of Ramadan.
The Ramadan Faith Intensive is back! For the third year running, we've decided to run this in-demand online course once more this Ramadan 1443/2022.
The Ramadan Faith Intensive is a unique online course and spiritual development programme taught in English focusing on Qur'an & Hadith study with Shabbir Hassan – open to students of all levels.
Each lesson will last for 1.5 hours and sessions will be delivered live via Zoom every Monday, Wednesday, and Friday evening in Ramadan. There will be a total of 12 sessions. Please note that timings may vary slightly depending on Asr/Maghrib prayer times. Further communication will be sent via email/Telegram to those who sign up.
Here is a breakdown of what to expect each 1.5 hour session to look like:
Qur'an Study: Reflection and commentary of verses (Tafsir) from Surah Al-Furqan with a key focus on the different themes & lessons (M.A.S Abdel Haleem's translation will be used).
Hadith Study: Commentary on the Arba'in (Collection of 40 Hadith) of Imam Shah Waliullah. The 40 short narrations we will cover include: intentions, charity, character development, modesty, and more.
There is a high level of interest in this course so please book your spaces as soon as possible and kindly share with others! We look forward to welcoming you soon!
Stay updated on social media @FaithSpaceUK. For any further enquiries either send us a DM or alternatively email us at [email protected].
---
---
More upcoming events