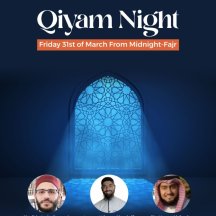 Description:
On behalf of ICGA, MYNA, and NAMCC-
We are honored to have our Qiyam for High School Students and College Students for an All-Nighter Qiyam! This is for Ages 14+. This is our first Qiyam since before the Pandemic! 
Please join us with World Renowned Imam Wisam Sharieff and Sh. Umer Al-Qasim, and Sh. Attiya. We will be discussing areas on getting closer to the Quran & Faith,  Q&A session, Qiyam with Sh. Umer, and have lots of sports and fun activities! 
Please register as this helps us with food count and accommodations!
---
Location:
Islamic Center of Greater
5110 Manor Rd
Austin , Texas 78723 United States
+ Google Map

---
More upcoming events