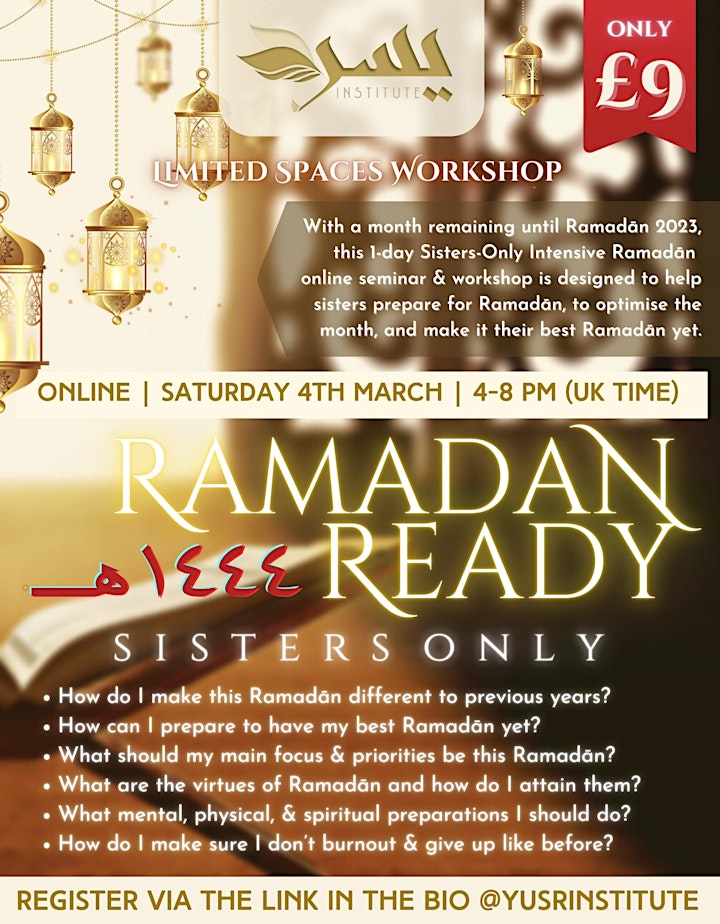 Description:
With a month remaining until Ramadan 2023, this 1-day Sisters-Only Online Intensive Ramadān seminar + workshop is designed to help sisters prepare for Ramadān, to optimise the blessed month, and to make it their best Ramadān yet.
Everything you need to know regarding preparing for Ramadān will be discussed, alongwith thought-provoking exercises to help you make your own personalised plan for this Ramadān.
The session will strive to serve as the perfect Pre-Ramadān spiritual booster that we all need in order to physically, mentally and spiritually prepare for the upcoming month.
Amongst the many topics that will be discussed, are the following:
• What truly is Ramadān?
• What is the objective of Ramadān?
• How do I make this Ramadān different to the previous years?
• How can I prepare to have my best Ramadān yet?
• What should my main focus & priorities be this Ramadān?
• What are the virtues of Ramadān and how do I make sure I attain them?
• What are the mental, physical & spiritual preparations I need to do?
• How can I make sure that I don't burn out & give up like before?
---
---
More upcoming events