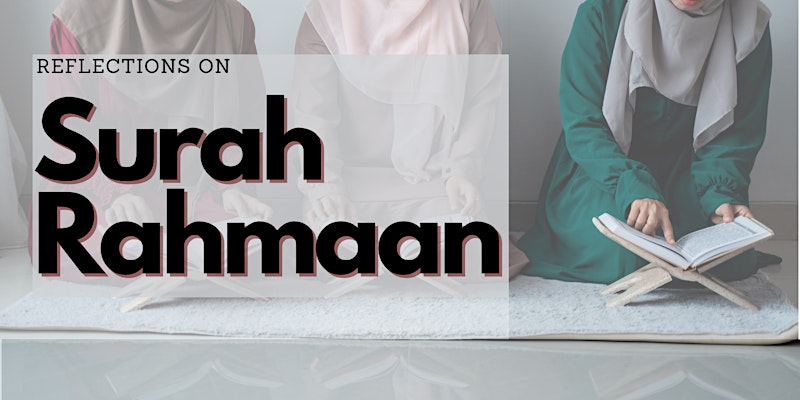 Description:
Learning Lessons from Surah Rahmaan – Sisters only course
About the Course
A Tafseer and Tadabbur course that looks at practical lessons and guidance for daily life. This is a Tafsīr course that draws from Classical Exegeses such as Tafseer ibn Katheer, At-Tabari, Al-Qurtubi, and others. It aims to generate a practical approach to the Qur'ān and promote a dynamic engagement with the Divine words.
For each verse, we will:
Cover a word to word translation
Study the implications of the verses
Discuss why the verses are important to us today
Reflect on how we can practically apply lessons from the surah in our own lives
Each class will include interactive discussions and end with a Q&A with Ustadha.
Class recordings will be available for only 3 days after each lesson.
Who the course is for
The course is designed for an English-speaking audience – no prior knowledge of Arabic is required. Sisters only.
If you:
Want to know what the Quran is saying to you, but don't know where to start
Want to know how to make the Quran a practical guidebook
Want to understand each verse independently to reflect on their meanings
Want a chance to access information from some of the classical exegesis'
Then this course is for you, inshāAllah!
Course Cost
Course cost: £29.99 for a full 4-week course.
All participants will have access to a learner's pack containing a program schedule and downloadable resources including a PDF Presentation and Note-taking worksheets ready to print.
You will receive an email with further details closer to the starting date inshāAllah!
WHEN
Classes take place on Saturdays at 5pm – 6pm (BST) for 4 weeks during the month of Ramadān (9th of April until the 30th of April 2021).
For any queries, please feel free to email us at [email protected]
Other Courses
Click here for other courses by Ustadha Rumaysa
---
---
More upcoming events