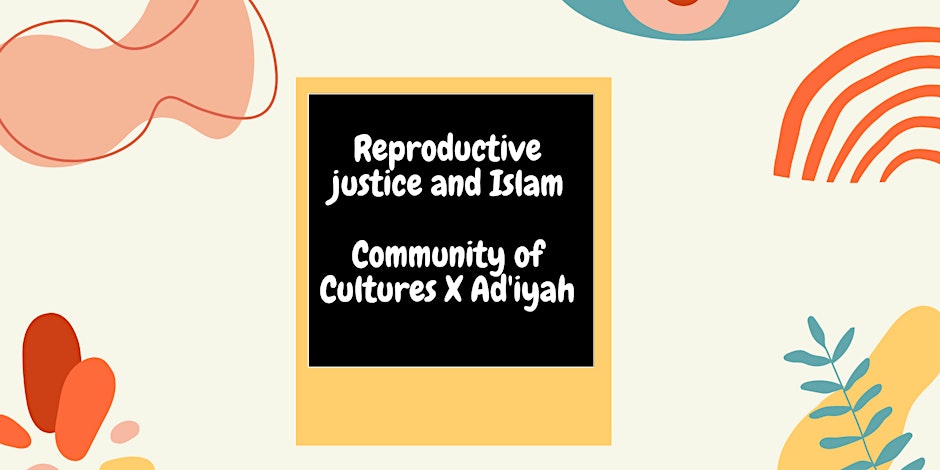 Description:
Community of Cultures have teamed up with Ad'iyah Muslim Abortion Collective to provide a series of 3 workshops around reproductive justice and health in Islam.
Session 1 is an introductory session that will hopefully set the tone for the rest of our conversations and help people understand why we exist as an abortion collective.
Here we will discuss: what RJ means, what bodily autonomy means, Quranic principles and references to support this, informed consent, community care and the ways in which RJ links to other struggles
Ad'iyah:
Ad'iyah Muslim Abortion Collective is a community of Muslims who have experiences of pregnancy endings. Our spaces are for any and all Muslims who have had abortions, want abortions or need abortions. At Ad'iyah, we believe that Allah (swt) loves us all in abundance and that we should be able to draw on Islam before, during and after our abortions, as we draw on Islam in all aspects of our life. Our work is centred around love, reproductive justice and expansive Islam. Currently our work spans across community healing circles, knowledge sharing, resource provision and 1-2-1 doula work in the near future.
Session facilitators:
Ammaarah (she/her) is the founder and primary doula at Ad'iyah Collective. She is a mixed race, Black and South Asian Muslim who has primarily worked in gender, racial and reproductive justice. She is also a relationship and sex educator and loves working with and alongside the wonderful communities she belongs to.
Hajer (she/her) is a Relationship and sexual health educator; alongside her work she is also completing a Master's in Public health. Hajer, who is of North African descent, prides herself on incorporating her culture and Islamic faith to her work to help bridge gaps on the misinformation and inequalities surrounding her community's health.
Inclusivity and Confidentiality
Inclusivity, safety, respect, confidentiality and consent are fundamental principles of the SMC and we ask all attendees to uphold them too.
---
---
More upcoming events