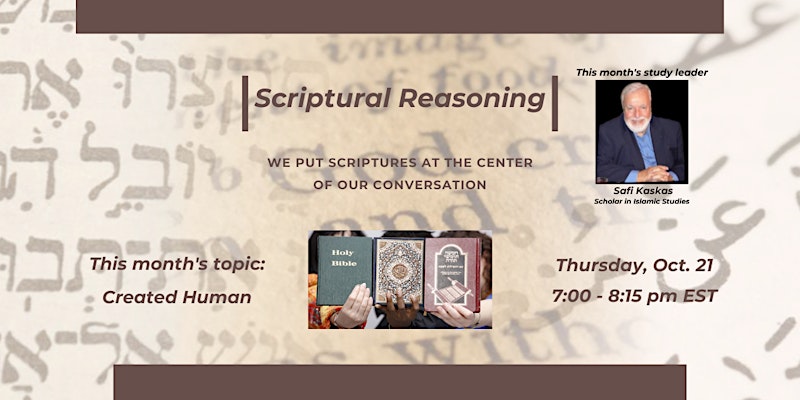 Description:
Join our monthly circle to study Abrahamic scriptures!
About this event
Scriptural Reasoning (SR) is a practice where Christians, Jews, and Muslims study each other's sacred texts. SR participants meet once a month to read short passages from their respective scriptures on a certain topic. Facilitated by a study leader, each session is an opportunity to listen and share various perspectives. SR sessions help participants reflect on a curious list of topics within the Abrahamic tradition. The result is often a deeper understanding of others and one's own scriptures, as well as the development of strong bonds across faith communities.
You can find this month's themed text pack here.
We would like to thank Rose Castle Foundation for their permission to use www.scripturalreasoning.org content.
This Month's Study Leader
Safi Kaskas has studied Abrahamic religions and lectured throughout the US and the Middle East on subjects related to Islam, interfaith, and reconciliation between Evangelicals and American Muslims.
He is a Senior Researcher in Islam and Multifaith Reconciliation with George Mason University, Center for World Religions, Diplomacy, and Conflict Resolution.
Mr. Kaskas translated and published the Qur'an into simple easy to understand English in January 2015 and published The Qur'an with references to the Bible in January 2016. This book has 3000 references to the Old and the New Testaments.
The Italian translation to The Qur'an with references to the Bible was completed in April 2016 and was presented to his holiness Pope Francis during the same month.
He just completed compiling the first Hadith book/collection of Prophet Muhammad's sayings on "The Kindest of Manners". The book will be published during this year.
---
---
More upcoming events