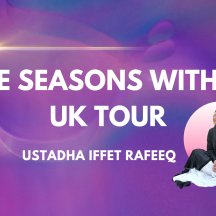 Description:
The Seasons Within – Full-day workshop including Lunch, Refreshments and Course Material. (Please note: Age restriction 18+)
Understanding your menstrual cycle for the spiritual woman
Each woman has a natural rhythm that impacts her body: This is called the Infradian Rhythm. This rhythm dictates our energy levels, metabolism, immune system, fluctuating mood, stress response, fertility, and even brain functions.

In this insightful workshop with Ustadha Iffet Rafeeq, you will learn how to live in sync with your infradian rhythm to achieve success in your career, motherhood & relationships without compromising your health & spiritual peace.

What are the seasons? The Infradian rhythm is a 28-day cycle that regulates the menstrual cycle. The Menstrual cycle is split into 4 phases.
We help you map your menstrual cycle like the seasons of the year:
Winter (Menstruation phase)
Spring (Follicular phase)
Summer (Ovulatory phase)
Autumn (Luteal phase)
Each of these phases creates changes in the body that reflect the seasons that Allah created. Every woman should be able to recognise her seasons and work them to her physical and spiritual advantage.
Spirituality & SeasonsThis workshop is not limited to just the biology of a woman but also covers how to nurture her soul in each of her seasons. Allah has placed in every season a potential to worship him in a way that it unique to that phase. When a woman learns how to synchronise her ibadah (worship) to her body, she makes better progress, is more compassionate and has more clarity in her spiritual journey.
Ustadha Iffet speaks passionately about Seasonal Ibadah and how it can help create the perfect balance that all spiritual women in the modern world are seeking.
In this full-day workshop, you will be taken on a journey covering the following: 
Part 1:
Sanctity of the Womb in Islam
Infradian rhythm
Endocrine system
Part 2:
Cycle tracking method
Follicular Phase: Spring – Strengths, setbacks, foods & Worship
Ovulatory Phase: Summer – Strengths, setbacks, foods & Worship
LUNCH
Part 3:
Luteal phase: Autumn – Strengths, setbacks, foods & Worship
Menstrual phase: Winter – Strengths & setbacks, foods & Worship
Womb care & re-balancing periods
Part 4:
Each workshop has been chosen to be an intimate learning space, so we ONLY HAVE 35 SPACES. Age restriction 18+
Suitable for both married & single women. This is vital information that every woman should know.
Book now and start the journey towards a more balanced and spiritual version of you.
LOCATION
The Hub, B91 2LL
---
Location:
The Hub,
5-9 Hermitage Rd
Solihull , B91 2LL United Kingdom
+ Google Map

---
More upcoming events