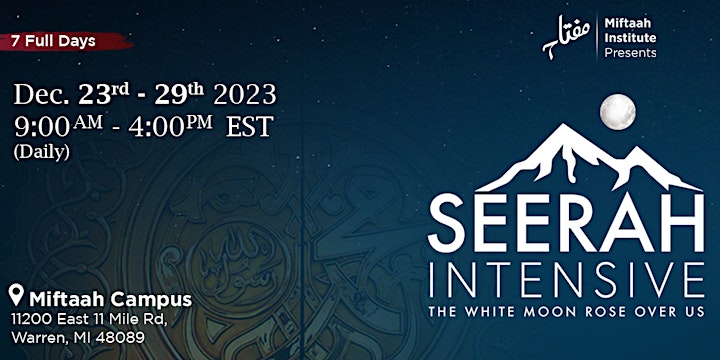 Contributed By:
events coordinator
Organizing Institution:
Miftaah Institute
Contact email:
[email protected]
Start Date:
December 23, 2023 (9:00am)
End Date:
November 29, 2023 (4:00pm EST)
Cost:
$125 - $150 - $200 - $250
Website:
https://www.miftaahseerah.org/
Miftaah Campus – Warren – Michigan – United States
Description:
As Muslims, we all claim to have immense love for our beloved Prophet ﷺ. However, sometimes we find it rather difficult to express our love for him in manners which reflects our true connection to him ﷺ.
This is by no means a weakness we should be ashamed of nor is it an imperfection that can be faulted to us, but rather this blemish is a direct effect of us not being able to to study the beautiful and aspiring life of the Muhammad ﷺ.
As we study his life we naturally adapt the love and connection his habits, practices, and traditions. Thus, making it easier for us to constantly express our love for him.
‍
Led by one of the Co-founders of Miftaah, Shaykh Abdullah Waheed leaves the crowd tantalized with his engaging, enthusiastic style of speech. Now, you can join the Seerah Intensive in-person or from the comfort of your own home!
Like many of our previous attendees, you may leave with a greater love with the Prophet ﷺ than you came with and a greater appreciation for our beloved. We hope to see you soon inshallah.
---
Location:
Miftaah Campus
11200 East 11 Mile
Warren , Michigan 48089 United States
+ Google Map

---
More upcoming events