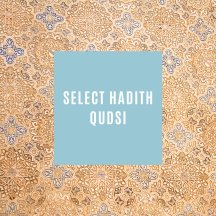 Description:
Hadith Qudsi has a very unique status in our religion in that the content and meaning of the Hadith is from Allah, but the wording is the wording of the Prophet صلى الله عليه وسلم .They are not included in the Qur'anic revelation, but they are a special category occupying a status between Qur'an and Hadith. The Hadith Qudsi have very great spiritual meaning for our practices as Muslims and our journey to the acceptance of Allah 'Azzawajal. Join us in discussing and learning from some of these special and unique Hadiths.
Prerequisite
None required. 
Instructor and Timing
Class will be instructed by Ustadh Meurad Osman and will be held on Sundays from 11am to 12:30pm EST weekly from August 14 to September 4.
Recording
Each session will be recorded. Links to access the recordings will be sent to all via email.
Payment
Please note that the registration fee covers all sessions of the class.
Early registration fee of $40 until August 6.
Regular registration fee of $50 from August 7 and thereon.
Financial aid and payment plan options are also provided. Please note that, if approved, financial aid will cover the entire cost of the class and can only be applied towards only one class per semester per student. With a payment plan, the registration fee will be broken down into installments to be paid on different dates to ease the financial burden on the student.
If you wish to apply for either, please select either option, "Financial Aid" or "Payment Plan", best fitting your situation and complete the registration process.
Once complete, our registration team will contact you via email for the next steps.
---
---
More upcoming events