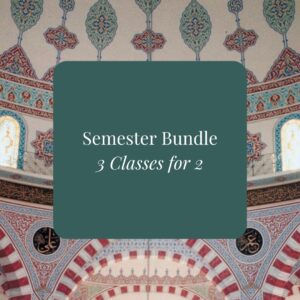 Description:
Take 3 classes for the price of 2 – effectively getting 1 class for free!
Selection of classes to choose from:
New Muslims Program Part II
The Fiqh of Fasting
The Greater Understanding
The Gardens of the Righteous
Tafsir of Juz Amma
The Refinement of the Souls
Please note that all classes will be recorded so if timing doesn't work out you have the option to watch the recordings.
3 classes for the price of $80 until May 27 so don't delay!
Promo codes are excluded from this bundle.
Access our semester flyer here.
Please note that you can double up on this offer by taking 6 classes for the price of only 4. Just select "2" tickets during registration and then make your selections on the classes you wish to enroll in.
---
---
More upcoming events