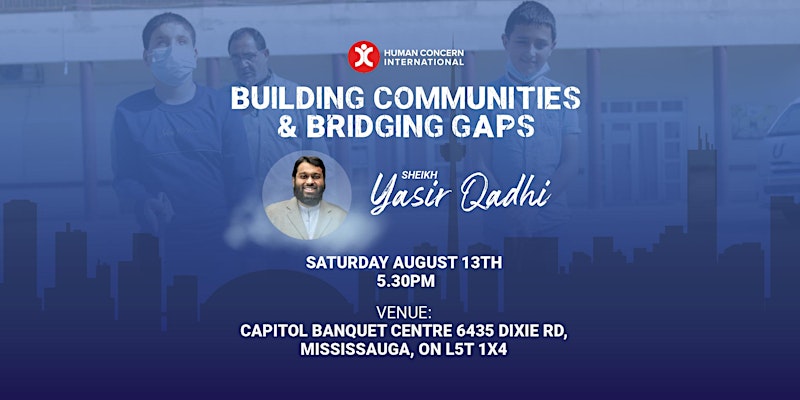 Description:
Join us this August, in Toronto for HCI's event of the year!
Human Concern International (HCI) will be hosting a fundraising dinner with none other than Sheikh Yasir Qadhi.
This dinner will be in support of the very important cause of helping those that are differently abled. Help HCI sustains efforts for people with disabilities around the world from Palestine to Pakistan!
Persons with disabilities are more likely to experience adverse socioeconomic outcomes such as less education, poorer health outcomes, lower levels of employment, and higher poverty rates. Poverty may increase the risk of disability through malnutrition, inadequate access to education and health care, unsafe working conditions, a polluted environment, and lack of access to safe water and sanitation. The disability may also increase the risk of poverty, through lack of employment and education opportunities, lower wages, and increased cost of living with a disability.
Our program will give you a chance to understand the impact of your donations and reunite with the community after this time of difficulty.
"Verily with hardship comes ease" – Qur'an (94:5)
Let us embrace this time of ease and take part in our Islamic duty of supporting our brothers and sisters with disabilities in the community and ensure they are extended the same respect, acknowledgment, and encouragement as everyone else.
Join us for this blessed cause. The program will include Quran recitation, Islamic reflections, silent auctions, inspirational stories, and light-hearted fun for the whole family.
Key facts about disability
Over 1 billion people live with some form of disability.
The number of people with disability is dramatically increasing. This is due to demographic trends and increases in chronic health conditions, among other causes.
Almost everyone is likely to experience some form of disability – temporary or permanent – at some point in life.
People with disability are disproportionately affected during the COVID-19 pandemic.
When people with disability access health care, they often experience stigma and discrimination and receive poor quality services.
There is an urgent need to scale up disability inclusion at all levels of the health system, particularly primary health care.
---
Location:
Location Capitol Banquet Centre
6435 Dixie Road
Mississauga , Ontario L5T 1X4 Canada
+ Google Map

---
More upcoming events