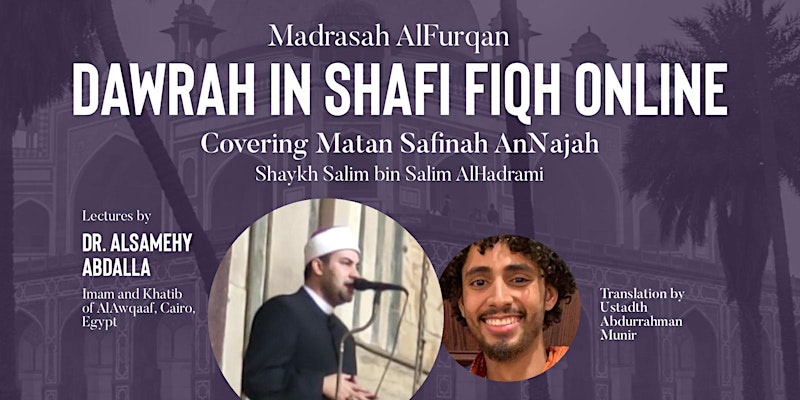 Description:
The Madrasah AlFurqan is hosting an 8 week Shafi Fiqh Dawrah.
We welcome you to attend the 8 weeks Shafi Fiqh Dawrah hosted by The Madrasah of Sheikh Dr. AlSamehy Abdalla. We will be covering the Personal Obligatory Knowledge according to the Madhab of Imam AshShafi pertaining to matters of worship (ie. Purification, Prayer, Fasting, Zakat, and Hajj) through the book Safinah AnNajah by the scholar Salim Bin Salim AlHadrami.
8 sessions
Every Sunday
January 9th – March 6th, 10:00 AM U.S. Eastern Time
All students who successfully attend all lessons will receive a certificate of attendance
For those who cannot attend the scheduled time, all sessions will be recorded so students can re-watch at any time
For financial aid requests and any other questions, email: [email protected]
About the Instructor
Sheikh Dr. AlSamehy Abdalla holds a Bachelor's, Masters, and Ph.D. in Tafseer and Quran sciences.
He is also the Imam and Khatib in the Awqaf in Cairo, Egypt
---
---
More upcoming events