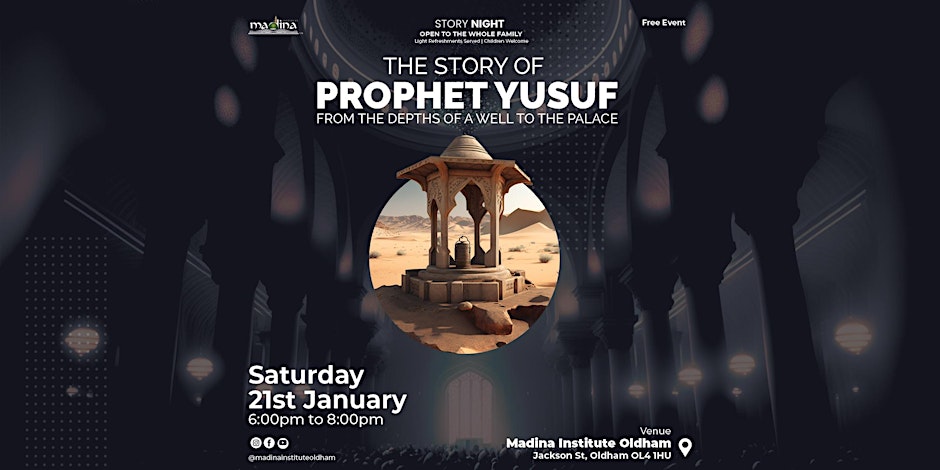 Description:
The Story of Prophet Yusuf
From the depth of the well to the highs of the palace
Life is full of challenges, and there isn't a single human being on earth who's free from hardship in one form or another. Even the prophets were tested with losses of wealth, health or their loved ones.
"Or do you think that you will enter Paradise while such [trial] has not yet come to you as came to those who passed on before you? They were touched by poverty and hardship and were shaken until [even their] messenger and those who believed with him said, "When is the help of Allah?" Unquestionably, the help of Allah is near."
(Surah Al-Baqara, Verse 214)
When Prophet Yusuf was a child, his jealous older brothers threw him down a well – this led to him being separated from his beloved father Prophet Yaacob for many years, becoming a slave, and being thrown in prison for a wrongdoing that he did not commit. How did Prophet Yusuf deal with the many challenges that he faced?
Event Details
Date: 21st January 2023
Suitable for Adults & Children
Time: 6:00 pm to 8:00 pm
Price: Free to attend | £5 online access
Children's Workshop – Delivered by Tiny Teachings
Time: 6:00 pm to 8:15 pm
Price: £7 per child
For Ages: 5-10
The workshop will teach children about the life of this amazing Prophet through storytelling, cooking, games, and crafts. We aim to provide a fun, safe, and inviting environment in which children can build their love for Islam.
Shaykh Abdul Aziz Ahmed Fredricks
Shaykh Abdul Aziz Ahmed Fredericks was born in Nottingham in the United Kingdom where he completed his schooling before moving to Leicester for University studies. He completed a BEd degree in primary education specialising in Language Arts. He then went on to carry out post-graduate studies in Education at various universities including the London University Institute of Education, Strathclyde University and the Open University. Read More
What is story night?
Storytelling has been a means of conveying knowledge for many cultures since the creation of man.
"Tell me a fact and I'll learn. Tell me the truth and I'll believe. But tell me a story and it will live in my heart forever." – Indian Proverb
Stories engage our thinking, and our emotions, and can even lead to the creation of mental imagery, the audience listening to stories react to them almost automatically, participating, in a sense, in the action of the narrative.
We aim to reintroduce this lost art to our communities through our monthly story night which will feature a range of different speakers and a range of different themes, join us for the first event of our Monthly Story Night Series, where Shaykh Abdul Aziz Fredricks will be going through the true life of Rumi. It will be in a relaxed, open environment, and of course, light refreshments will be provided.
---
Location:
Madina Institute & Masjid Community Hub
Jackson Street
Oldham , OL4 1HU United Kingdom
+ Google Map

---
More upcoming events