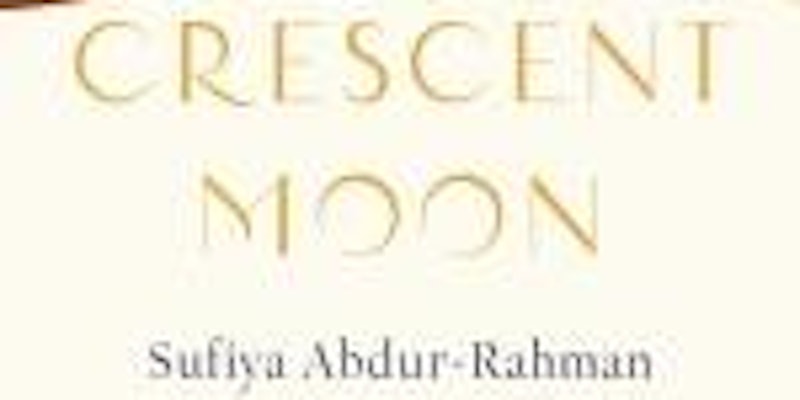 Description:
We are thrilled to welcome Sufiya Abdur-Rahman for a reading and conversation celebrating her debut novel, Heir to the Crescent Moon!
About this event
Sufiya will be in conversation with Jesse J. Holland. This event will take place in-person, on our back patio.
From age five, Sufiya Abdur-Rahman, the daughter of two Black Power–era converts to Islam, feels drawn to the faith even as her father, a devoted Muslim, introduces her to and, at the same time, distances her from it. Abdur-Rahman's father and mother abandoned their Harlem mosque before she was born and divorced when she was twelve. Forced apart from her father—her portal into Islam—she yearns to reconnect with the religion and, through it, reconnect with him.
In Heir to the Crescent Moon, Abdur-Rahman's longing to comprehend her father's complicated relationship with Islam leads her first to recount her own history, and then delves into her father's past. She journeys from the Christian righteousness of Adam Clayton Powell Jr.'s 1950s Harlem, through the Malcolm X–inspired college activism of the late 1960s, to the unfulfilled potential of the early 1970s Black American Muslim movement. Told at times with lighthearted humor or heartbreaking candor, Abdur-Rahman's story of adolescent Arabic lessons, fasting, and Muslim mosque, funeral, and Eid services speaks to the challenges of bridging generational and cultural divides and what it takes to maintain family amidst personal and societal upheaval. She weaves a vital tale about a family: Black, Muslim, and distinctly American.
Sufiya Abdur-Rahman's writing investigates questions of family, identity, race, and religion and, often, how they intersect. Her essays, articles, and criticism have appeared in publications including Catapult, The Common Online, Gay Mag, The Washington Post, Chicago Tribune, and NPR. She has earned Notable distinction in Best American Essays, received fellowships from the Sustainable Arts Foundation, and is a two-time alumnus of VONA writing workshops. She is Creative Nonfiction Editor for Cherry Tree, a national literary journal, at Washington College, where she teaches nonfiction. She holds an MFA in creative nonfiction from Goucher College and lives in Annapolis, Md., with her family. Heir to the Crescent Moon is her debut.
Jesse J. Holland is an award-winning author and journalist who is the author of the first novel featuring comics' most popular black superhero, The Black Panther. In addition to fiction, Jesse is also an award-winning nonfiction author, with his book The Invisibles: The Untold Story of African American Slavery In The White House, being named as the 2017 silver medal award winner in U.S. History in the Independent Publisher Book Awards and one of the top history books of 2016 by Smithsonian.com. His first book was the now-classic Black Men Built The Capitol: Discovering African American History In and Around Washington, D.C.
Jesse is currently serving as Distinguished Visiting Scholar In Residence at the John W. Kluge Center of the Library of Congress. He is a former Race & Ethnicity writer for The Associated Press, having been recognized as one of the few reporters to be credentialed to cover all three branches of the American government during his career: the White House, the Supreme Court and Congress. He now shares his love of journalism and writing through public speaking and teaching, having served as the Visiting Distinguished Professor of Ethics in Journalism at the University of Arkansas in 2016. He also teaches journalism ethics at The School of Continuing Studies at Georgetown University and New York University in Washington D.C. as well as creative nonfiction in the Master of Fine Arts in Creative Nonfiction program at Goucher College in Towson, Maryland.
---
Location:
The Ivy Bookshop - Back Patio
5928 Falls Road
Baltimore , Maryland 21209 United States
+ Google Map

---
More upcoming events