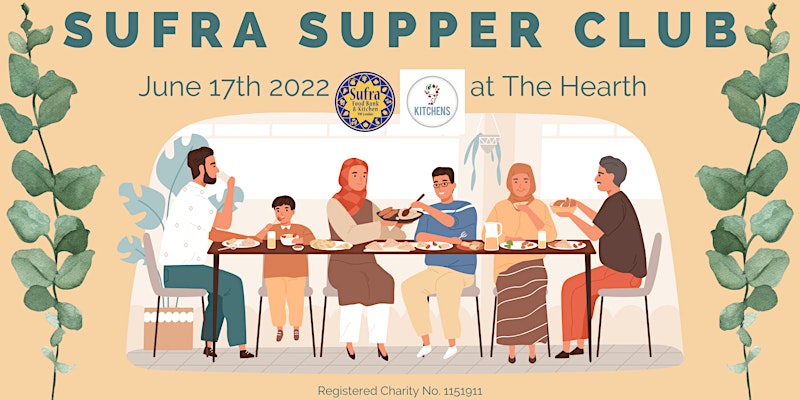 Description:
Levantine and North African Summer Mezze Menu. 50 Sufra supporters coming together for a night of entertainment.
Exciting news: we are hosting our first ever Sufra Supper Club!
The Supper Club promises to take you on a gastronomic journey through North Africa and the Middle East, accompanied by music and stories that will bring your meal to life.
All proceeds from the evening will go towards our core services, including our 'OpenARMS' programme, which supports asylum seekers, refugees and migrants to build a new life in the UK.
Your professional chefs on the night will include three of the refugee women we currently support on the programme, from Morocco, Syria and Palestine.
This will be an intimate event in a beautiful space and tickets will be limited – so please book in advance.
Major thanks to Kieu-My Pham Thai of 9Kitchens and The Hearth for their support for this event.
SUFRA NW LONDON
Sufra NW London is a local charity established in 2013 to address both the causes and consequences of impoverishment in the community.
Based on St. Raphael's Estate, Brent's most disadvantaged neighbourhood, our Community Hub provides a life-line for people in crisis – including families living in extreme poverty and people who are vulnerable, homeless and socially isolated.
We provide our 'guests' with the food and support they urgently need to survive, empower them to learn new skills and improve their wellbeing, and help them find work and become financially stable.
By working together and harnessing the goodwill of our neighbours, we build a stronger community where no one suffers alone in silence.
EVENT DETAILS
VENUE: The Hearth, 16 Lonsdale Rd, London NW6 6RD
DATE AND TIME: Friday 17th June 2022, 18.30-22.00
CANCELLATIONS: Cancellations and refunds can be made up to a week before the event. The Eventbrite fee cannot be refunded.
DIETARY REQUIREMENTS: Please list your dietary requirements during checkout. Key allergens will be included on the menu. All meat will be halal.
MENU: The full menu will be posted on this page closer to the event date. The menu is potentially subject to change based on the availability of fresh ingredients.
---
Location:
The Hearth
16 Lonsdale Road
London , NW6 6RD United Kingdom
+ Google Map

---
More upcoming events