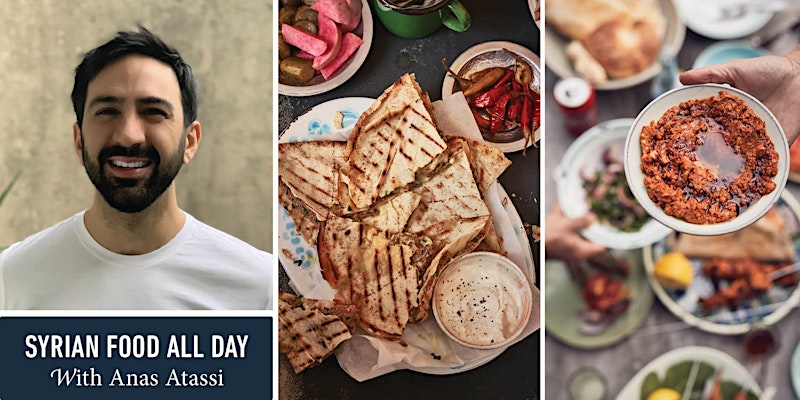 Description:
Muhammara, toshka, musabaha: these are three delectable Syrian dishes that you should add to your culinary vocabulary.
Join guest chef Anas Atassi, author of the new book "Sumac: Recipes and Stories from Syria," for a class that will show you three occasions when Syrian food should absolutely make an appearance on your table. First up is muhammara, a fast, flavorful, and beautiful dip of roasted red pepper, walnuts, and pomegranate molasses. A classic mezze dish in Aleppo, muhammara is excellent with crackers, fresh vegetables, or even as a creamy, vibrant accompaniment to roasted meats. Then, we'll think about the weekend as we make musabaha, a brunch dish that is sort of like a deconstructed, hassle-free variation on hummus. And finally, treat yourself to an afternoon snack inspired by toshka, a beloved Syrian street food. Cheesy, meaty, and crisp, toshka are great on the go, and Anas will give you his thoughts on how to make them the base of a full meal, as well. As we cook, Anas will share stories and reflections of Syria's rich food culture.
About Anas: Anas Atassi was born in Homs, Syria. His passion for cooking and Syrian food inspired him to write "Sumac: Recipes and Stories from Syria," to preserve his family recipes and stories. "Sumac" will take you on an inspiring food journey, introducing you to the delicious Syrian food, the rich Syrian food culture, and the lives and homes of the Syrian people. Anas currently works and lives in Amsterdam.
Order yourself a copy of "Sumac" and use promo code MILK2021 for 10% off.
Want to give this class as a gift? You can purchase gift cards here.
Bonus: All attendees of this class will receive a one-time 15% off coupon to the Milk Street Store after class.
This event has limited spots, and you must register in advance via Eventbrite. One sign-up covers one device. Closed Captioning is available for this event.
Immediately after registering, you will get a confirmation email that contains the Zoom meeting log-in information. One week prior to class (or within 48 hours of registering, if you sign up less than a week in advance), you will receive an email with the ingredients, equipment, and prep you'll need to cook along with us if you choose.
After class, you will receive a recording of the event, as well as a folder of recipes and resources that we discuss during the event. Class recordings are available to all registered attendees for two weeks following each event.
Payments for Milk Street live stream classes are non-refundable. If you find yourself unable to attend, you may transfer the ticket to someone else, but we are unable to refund fees and all payments are final. Classes are subject to cancellation at any time. In the case of cancellation by the event organizer, all paid tickets will be fully refunded.
Proceeds from live stream cooking classes support Milk Street's non-profit work with The Big Sisters Association of Great Boston, The Boys & Girls Club of Dorchester, and other partners.
If you have any questions about this class, please don't hesitate to get in touch via [email protected].
---
---
More upcoming events