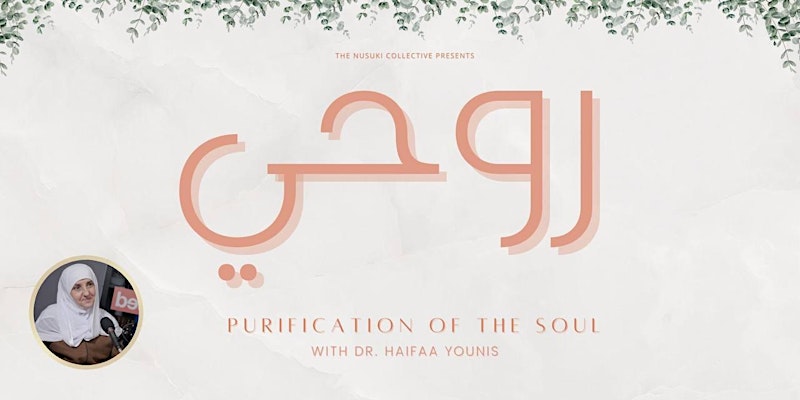 Description:
The Nusuki Collective is excited to announce Tazkiyah: The Purification of the Soul. A two day lecture retreat featuring Dr. Haifaa Younis.
Tazkiyah or the purification of the heart and soul is a significant part of Prophet Muhammad's ﷺ teachings and plays an essential role in all people's lives. This Islamic fundamental cultivates people's consciousness, character, spirituality, and morality. The traits of compassion, mercy, generosity, piousness, trustworthiness and more are consequential of tazkiyah and purified hearts.
Remembering Allah and contemplating His creation are gates to grow closer to God and upright. The heart—the place of the conscious—is the place to earnestly grow in the love of Allah, His prophets, and moralities. Dhikru-Allah, the recollection of Allah, learning and observing His attributes, and contemplating the universe are elements in the development and cultivation of tazkiyah–the society's ship to advance and prosperity.
Dr. Haifaa Younis is an American Board Certified Obstetrician and Gynecologist with roots from Iraq. Her pursuit of Islamic knowledge initiated when she began to study with various Islamic scholars from across the United States while she simultaneously attended individual courses and lectures on subjects including Aqeeda, Fiqh, usual Fiqh, Hadeeth, and Tazkiyah (purification of the soul). From the United States, she moved to Saudi Arabia where she graduated from the Mecca Institute of Islamic Studies (Jeddah, Saudi Arabia) and Al-Huda Qur'an Memorization School (Jeddah, Saudi Arabia) where she completed the memorization of the Qur'an. She is the founder and Chairman of Jannah Institute and currently teaches seminars on the thematic commentary of various chapters of the Holy Qur'an and their practical relevance in our day-to-day living. Additionally, she offers retreats on key topics that inspire hearts, combining the inner essence of Islam with an outward expression of practice. Dr. Haifaa is passionate about spreading the word of Allah (SBW) and igniting the love of Islam and the Qur'an through her teachings.
Insha'Allah, we are excited to host you at the Muslim Community Center (MCC) from Friday Oct 21st to Saturday Oct 22nd. This family event is open to all (Sisters, Brothers, and Children). We have two ticket options available, 2 day admission ticket or a 1 day admission ticket. Minimal tickets will be available at the door so we suggest ticket purchase ahead of time to reserve your space.
Program Breakdown:
Friday: 5:00 PM – 9:30 PM
Saturday: 4:00 PM – 8:45 PM
Childcare will be offered as for children between the ages of 4-10, childcare can be added to your ticket in checkout. Childcare tickets will be available at the door but will increase in price.
Light refreshments will be offered for lunch and dinner the area offers an array of Halal food eateries that will be listed below as well as on information pamphlets the day of the event.
As always we are excited to host you Insha'Allah!
Jazakum'Allahu Khairan!
– The Nusuki Collective Organizers
---
Location:
Muslim Community Center
15200 New Hampshire Ave
Silver Spring , Maryland 20904 United States
+ Google Map

---
More upcoming events