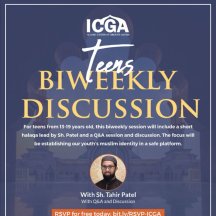 Description:
Every other Friday at 6:30 p.m. (NEXT SESSION Dec. 9th) 

For teens from 13-19 years old, this biweekly session will include a short halaqa lead by Sh. Patel and a Q&A session and discussion. The focus will
be establishing our youth's Muslim identity in a safe platform.

Shaykh Tahir Patel was born and raised in Los Angeles, California. His journey to pursue sacred Islamic knowledge began at age 13 when he traveled to the UK. By the age of 16, he completed the memorization of the Holy Qur'an at the renown seminary Darul Uloom, Bury. To further advance his studies in the Islamic Sciences, he continued at the seminary and pursued formal Islamic authorizations (ijazah). For 7 years, Sh. Tahir studied a rigorous curriculum covering the Arabic language and literature, Islamic jurisprudence, Commentary of the Holy Qur'an, Hadith, Islamic Philosophy, and Aqeedah (creed). He also earned his qualification in Information and Communication Technology from the UK. Shaykh Tahir has been teaching Islamic Studies, Arabic, and Qur'an Memorization/Recitation at an Islamic School for the past 7 years. His greatest accomplishment is passing on the gift of Qur'an memorization to two of his students. His interests include biology, history, and technology.
---
Location:
Masjid Khadijah
5110 Manor Rd
Austin , Texas 78723 United States
+ Google Map

---
More upcoming events