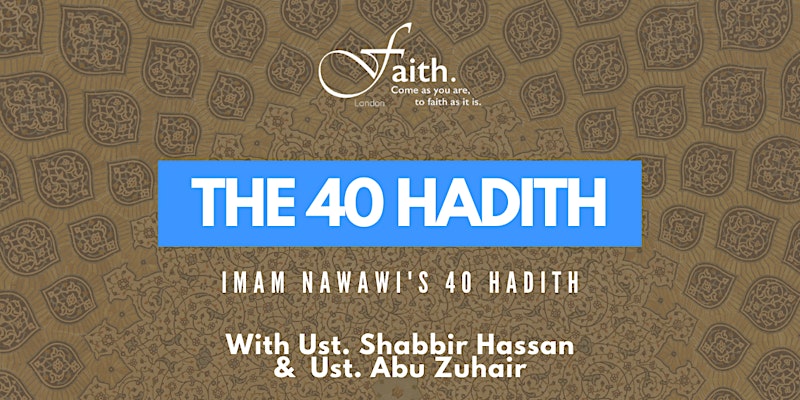 Description:
An in-depth study of Imam Nawawi's famous Arba'in (collection of 40 hadith) delivered online over the course of 8 weeks!
An 8-week online programme covering the famous Arba'in (collection of 40 hadith) of Imam Nawawi covering the various spiritual gems and lessons & rulings we can take from these beautiful Prophetic narrations…
About the book:
It is actually titled 'Al Arba'in fi mabani al Islam wa qawa'id al Ahkam' and contains 42 narrations that provide a comprehensive overlook of the Message of Islam. Imam Nawawi mentions in his introduction: "Everyone who desires and looks forward to the Hereafter must be familiar with these narrations because they cover the most important aspects of the religion and offer direction to all forms of obedience of Allah…"
The 40 Hadith cover topics such as:
The Pillars of Islam and Iman
Intentions and sincerity
Matters pertaining to the Day of Judgement
Mannerisms of a Muslim
Judiciary principles
Making clear the halal and haram
Forgiveness and repentance
Course objectives:
To learn these key Prophetic traditions
To have an introductory basis for Hadith literature and its study
To appreciate the efforts of Imam Nawawi
To apply the lessons from the narrations
Course format:
There will be 2 live sessions with our instrcutors (Ustadh Shabbir Hassan & Ustadh Abu Zuhair) on Mondays (6-8 PM) and Wednesdays (6-7 PM) over 8 weeks via Zoom.
There is a high level of interest for this course so book your spaces as soon as possible and kindly share with others! We look forward to welcoming you soon!
Stay updated on social media @FaithSpaceUK. For any further enquiries send us a DM on Instagram.
STUDENT SUPPORT: We try to keep our course fees as affordable as possible, yet we would never want finances to be a barrier to a student's education. Please get in touch via DM on Instagram if you would like to enrol on this course and cannot afford the fee.
---
---
More upcoming events