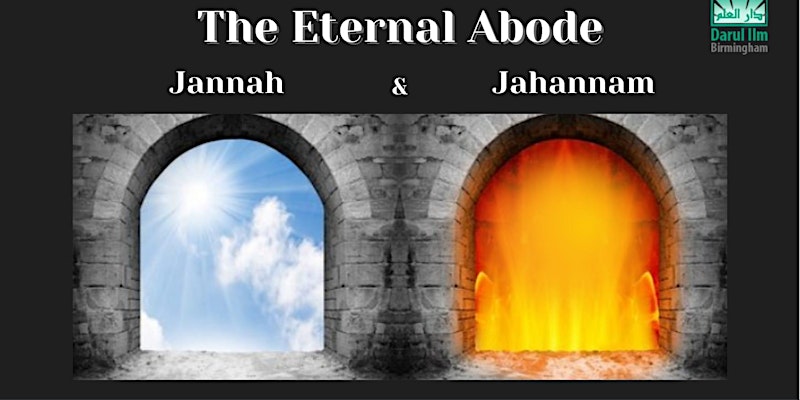 Description:
The Eternal Abode JANNAH & JAHANNAM
About this event
DARUL ILM BIRMINGHAM PRESENTS:
The Eternal Abode
JANNAH & JAHANNAM
2 Sessions
Delivered by Ustadha Qudsiyah and Ustadha Marium
FREE ONLINE COURSE
Sisters only
🗓 Date: Sunday 14th November 2021
🕚 Time: 3pm BST
To Enrol:
🔭 Course Overview:
A 2 session course that intends to introduce the attendees to the description of the final abode of every human, Heaven or Hell.
This course will go into detail of the blessings of Heaven that the believers will recieve. It will also discuss the horrifying torments which the inhabitants of Hell will be made to endure.
🎯 Learning Outcomes:
This course aims to enable our esteemed learners to:
• know the different types of bounties available for inhabitants of Paradise
and types of punishments inmates of Hell will face.
• understanding the reasoning behind certain bounties and punishments
• learn how we may prepare ourselves to attain Heaven
• learn how to protect ourselves from entering Hell
Our Provision:
🎓 Quality Teaching
🌍 Join us from anywhere in the world
💻 Online Learning
🚺 Sisters welcome
Contact:
📍Darul Ilm Birmingham, Bisley Works, Golden Hillock Rd, Sparkbrook, Birmingham B11 2PY
☎️ Call: 0121 7733576
📲 Mob: 07913238026
📧 Email: [email protected]
🖱www.darul-ilm.co.uk
Twitter: https://twitter.com/DarulilmBham
Facebook: https://www.facebook.com/darulilmbirmingham/
Insta: https://instagram.com/darulilmbham
Youtube: youtube.com/c/DarulIlmBirmingham
---
---
More upcoming events