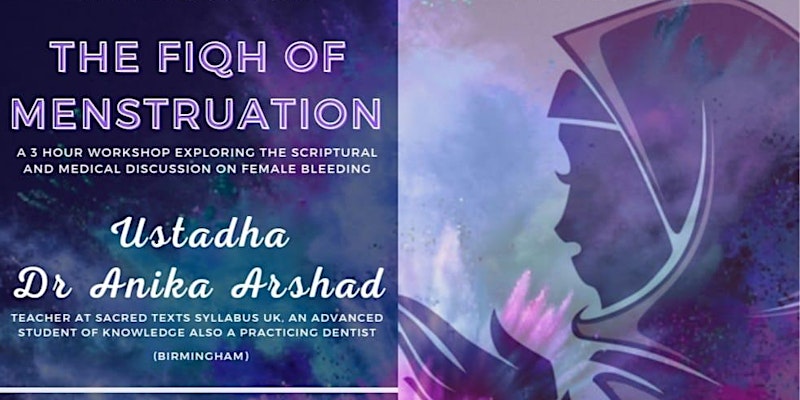 Description:
The Fiqh (Islamic Law) of menses (hayd), lochia, and abnormal uterine bleeding. The essential knowledge all women need. Common scenarios and their solutions.
THE FIQH OF MENSTRUATION
A3-HOUR WORKSHOP EXPLORING THE SCRIPTURAL AND MEDICAL DISCUSSION ON FEMALE BLEEDING
Ustadhą Dr. Anika Arshad TEACHER AT SACRED TEXTS SYLLABUS UK. AN ADVANCED STUDENT OF KNOWLEDGE ALSO A PRACTICING DENTIST (BIRMINGHAM)
SISTERS ONLY WORKSHOP
THE FIQH OF MENSES (HAYD) LOCHIA (NIFAAS) AND ABNORMAL UTERINE BLEEDING.
THE ESSENTIAL KNOWLEDGE ALL WOMEN NEED, IS TO COMPLY WITH RELIGIOUS LAWS.
---
Location:
Masjid-e-Quba
198 Shrewsbury Road
London , E7 8QJ United Kingdom
+ Google Map

---
More upcoming events