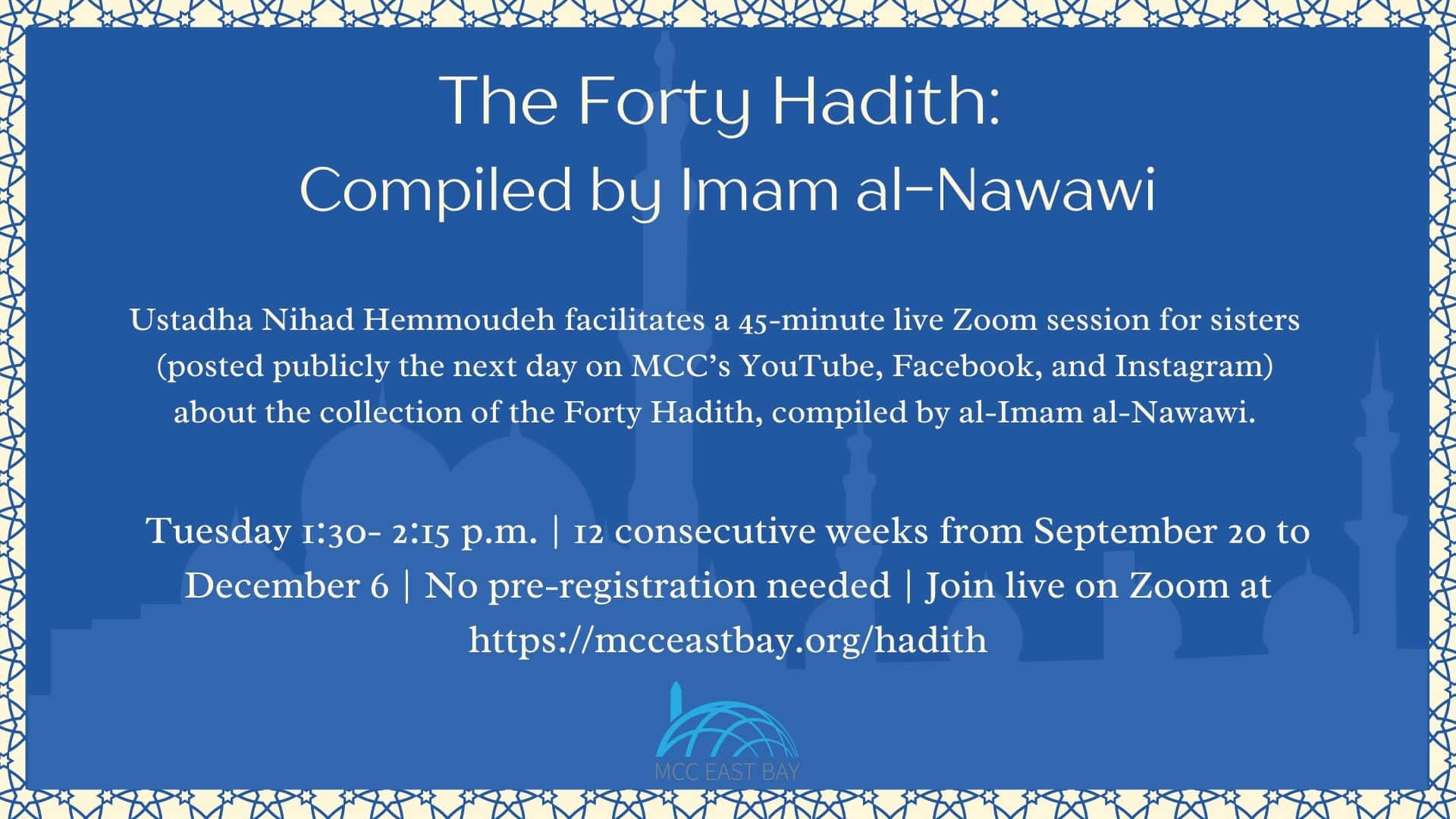 Description:
Ustadha Nihad Hemmoudeh facilitates a 45-minute live Zoom session for sisters (posted publicly the next day on MCC's YouTube, Facebook, and Instagram) about the collection of the Forty Hadith, compiled by al-Imam al-Nawawi.
1:30 p.m. to 2:15 p.m. PST | Tuesday's | 12 consecutive weeks from September 20 to December 6 | No pre-registration needed | Join live each week at 1:30 p.m. on Zoom at https://mcceastbay.org/hadith
Imam al-Nawawi's compilation of forty hadith of Prophet Muhammad, peace be upon him, are considered by scholars as a compilation conveying the most holistic and comprehensive understanding of Islam.
This series will elaborate on the collection of the Forty Hadith, compiled by al-Imam al-Nawawi. Everyone desiring to attain the Hereafter should know these narrations for the important information they contain, the guidance they provide, and the light they shed on the lives of Muslims.
By attending this 12-week weekly course, attendees will learn about the ahaadeeth as well as the commentary for each Hadith.
The weekly live session is for sisters only. Boys & girls ages 7 to 14 are welcome to join. Join the live session at 1:30 p.m. every Tuesday at https://mcceastbay.org/hadith
Questions? [email protected] 
Imam al-Nawawi's 40 Hadith have come to be known as the most comprehensive, and holistic, compilation/collection of hadith of the Prophet Muhammad (saw) that convey the essence of Islam.Imam al-Nawawi's collection of 40 Hadiths is one of the most important collections of hadiths we have today. He actually compiled a total of 42 hadiths for this collection, not 40. Allah (swt) granted him blessing and success in his work so that he could make great contributions to Islam before passing away at a relatively young age.The Imam was a scholar in many different disciplines of Islamic studies. The vastness of his works in these different areas is so great that if an individual decides to study fiqh, hadith, spirituality, or Quran; one would need to pass through Imam al- Nawawi. Along with the 40 Hadiths, he authored Riyad al-Saliheen, Al-Adhkar, and commentary of Sahih Muslim and Sahih Bukhari.
---
Location:
MCC East Bay
5724 W Las Positas Blvd #300
Pleasanton , California 94588 United States
+ Google Map

---
More upcoming events