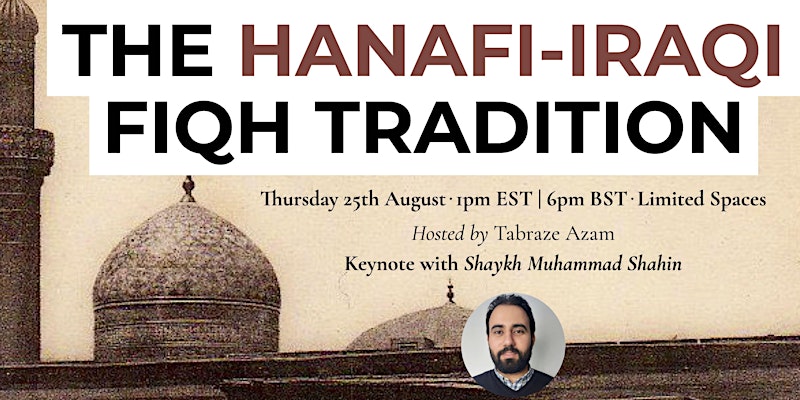 Description:
Join us on Thursday 25th August at 1pm EST | 6pm BST for a seminar on the Hanafi-Iraqi fiqh school!
In this special, online seminar, the Irshad Centre for Hanafi Studies is honoured to be hosting Shaykh Muhammad Shahin who will be presenting on the Hanafi-Iraqi fiqh tradition which produced the likes of Karkhi, Jassas, Natifi, Quduri, Saymari and many more!
*LIMITED SPACES*
SPEAKER
Shaykh Muhammad Yasir Shahin
Muhammed Yasir Shahin is a Researcher at the ISAM Centre for Islamic Studies in Istanbul and a PhD student in Islamic Law. He completed his undergraduate studies at Tripoli University in Lebanon, and studied Law and Sharia at al-Azhar University in Cairo. He obtained his Master's degree in Islamic Law at Fatih Sultan Mehmet University in Istanbul with the thesis entitled, "The Jurisprudential Difference Between the Hanafi Jurists of Iraq and the Transoxiana". Muhammed Shahin pursues research about Hanafi approaches to both fiqh and usul al-fiqh, and studies fundamental manuscripts that belong to the Hanafi school. He has edited several rare manuscripts, such as al-Qudurī's (d. 428/1037) al-Taqrīb.
HOST
The Irshad Centre for Hanafi Studies is an educational initiative specialising in the instruction of the Hanafi tradition. It provides students with an opportunity to study beginner, intermediate and advanced texts in Sacred Law and Legal Theory, and as of 2020, it also offers a full course of study for dedicated students who have limited time and other commitments. The innovative curriculum combines the various parts of the Hanafi tradition — fiqh, qawa'id, usul, hadith, 'aqida, tafsir — bringing everything together into a coherent and consistent whole.
For more information on the classes, courses, and intensives offered by the Irshad Centre, please visit: https://irshad.org.uk/
Please note that by registering for this event, you are consenting to receive emails regarding programs, classes, and events from the Irshad Centre. Your email will not be shared and you can unsubscribe anytime.
---
---
More upcoming events