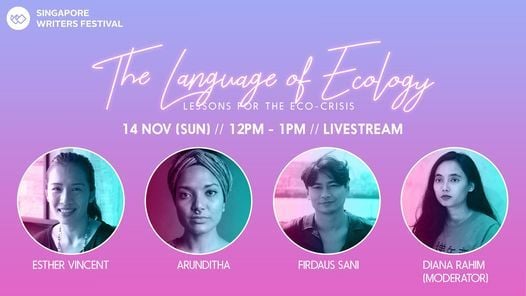 Description:
The Language of Ecology: Lessons for the Eco-Crisis
Featuring ArunDitha FKA Deborah Emmanuel, Esther Vincent Xueming, Firdaus Sani.
Moderated by Diana Rahim.
This event will be streamed online on 14 November, from 12 pm to 1 pm. Accessible with the purchase of the SWF 2021 Festival Pass: https://singaporewritersfestival.com/programme-details/conversations/the-language-of-ecology-lessons-for-the-eco-crisis
About the event
How is ecology intertwined in our everyday lives? How can we listen to the lessons that our ancestral lands have to teach us? How can the language we use help us to form more conscious relationships with the land, and relationships that are centered on kinship and care? Join this conversation as the authors ruminate on what it means to use words, stories, and ancestral knowledge to navigate the eco-crisis and our climate-changed world.
This program is co-presented by Singapore Writers Festival and Ethos Books. Singapore Writers Festival is organized by the Arts House Limited and commissioned by the National Arts Council.
About the speakers
ArunDitha is a Singaporean poet, singer, professional speaker, and presenter. She has written three books, two one-woman shows, and countless poems and songs which have been featured on all kinds of stages globally. When not creating work, ArunDitha supports others into their fullest expression through coaching at www.be-your-self.love.
Esther Vincent Xueming is the editor-in-chief and founder of The Tiger Moth Review, an international eco Journal of Art & Literature based in Singapore. She is the author of Red Earth (Blue Cactus Press, 2021), an ecofeminist collection of poetry, and co-editor of Making Kin, an anthology of ecofeminist personal essays from Singapore (Ethos Books, 2021). She has also co-edited two poetry anthologies, Little Things (Ethos Books, 2013) and Poetry Moves (Ethos Books, 2020), which are taught in schools locally.
Firdaus Sani is a fourth-generation Orang Laut, whose ancestry can be traced to the Riau Islands. In 2020, Firdaus started Orang Laut Singapore (@oranglautsg), a page dedicated to retelling stories of Pulau Semakau, one of Singapore's Southern Islands, through photographs and stories based on his family's experience. Firdaus also offers traditional Orang Laut cuisine, home-cooked by his mother Mdm Nooraini at www.oranglaut.sg. He works at an environmental non-profit and strives to bridge the gap between sustainability and island traditions.
About the moderator
Diana Rahim is an editor, writer, and occasional visual artist currently working in a non-profit organization. Her present work across mediums has focused on the politics of public space, the human experience and relationship with the environment, and issues pertaining to Muslim women in Singapore.
Photo credit (ArunDitha) – Nydia Hartono
Also, check out other Arts Events Online, Literary Art Events Online, Festivals Online.
---
---
More upcoming events