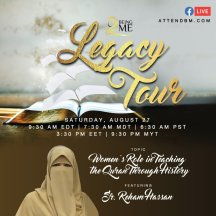 Description:
The Legacy Tour
The Legacy of Women's Role in Teaching the Qur'an Through History by Sr. Reham Hassan a Master's degree holder of Sciences of the Qur'an, a certified Qur'an and Tafsir teacher and speaker from Ontario, Canada.
Saturday, August 27th
Time: 🇨🇦 9:30 am EDT
🇨🇦 7:30 am MDT
🇨🇦 6:30 am PDT
🇪🇬 3:30 pm EET
🇲🇾 9:30 pm MYT
Live on Facebook Live
Toronto:
Malaysia
Calgary:
Vancouver:
Ottawa:
https://www.facebook.com/Being-ME-Muslimah-Empowered-Ottawa-103984211175300/
Please Note: Click the link to watch the program. Facebook account not needed! 🤗
Visit attendbm.com to see more Legacy Tours and other events by Being ME Canada!
---
---
More upcoming events