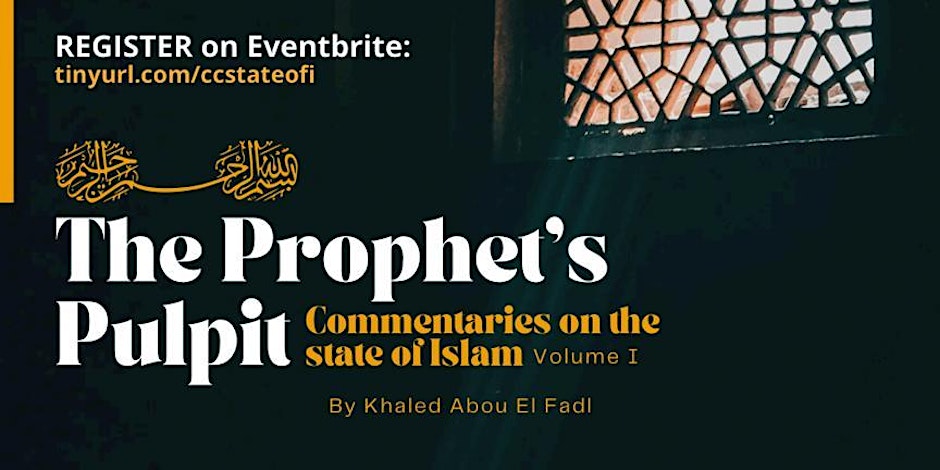 Description:
We will be discussing the following book, in line with the Mawlid (birth) of the Prophet Muhammad PBUH!
📚: The Prophet's Pulpit: Commentaries on the state of Islam by Khaled Abou El Fadl
📆: Sunday 1 October, 2023 | 16th Rabi Al-Awwal, 1445 AH
🕰: 6 – 7:30pm UK
'The Prophet's Pulpit: Commentaries on the State of Islam (Vol. 1) is a collection of twenty-two khutbahs (Islamic sermons) delivered online by Khaled Abou El Fadl. The khutbahs are divided in five parts, namely Foundations: From Darkness to Light; On Love and Building a Relationship with God; Keeping Our Faith in the Modern Day; On Justice; and On Gratitude and Navigating Hardship, where Khaled attempts to delineate the spiritual and ethical path forward for the Muslims while addressing issues like the challenges of oppression, injustice and an overwhelming Islamophobia in the contemporary world.'
'The author, distinguished law professor and classically trained Islamic jurist, delivers incisive commentaries on the current state of Islam and the Muslim world from the symbolic pulpit of the Prophet of Islam. Part Qur'anic exegesis and part socio-ethical commentary, this volume showcases the knowledge, enlightenment, and dedication to justice that once propelled the Islamic civilization to great heights of human achievement. It attempts to illuminate the spiritual and ethical path forward for Muslims amid the challenges of injustice, oppression, and the rising tide of Islamophobia in our world'
Either the author or the editor of this book, Joseff Linhoff, will be present for half of the session for a Q&A
Please register your attendance here, if interested in attending.
At The Croissant Club, we run one interactive session a month, where members collectively discuss books, podcasts and movies. These discussions are usually facilitated by 2 co-hosts. All new and old members welcome – come along to our next session below, if interested!
If you can, try to buy from local independent bookstores – in the UK, for example, suggestions are Dar Al Taqwa, Saqi Books, Darussalam (London-based + online)
Please note: Feel free to switch on your cameras to create a more interactive atmosphere.
---
---
More upcoming events