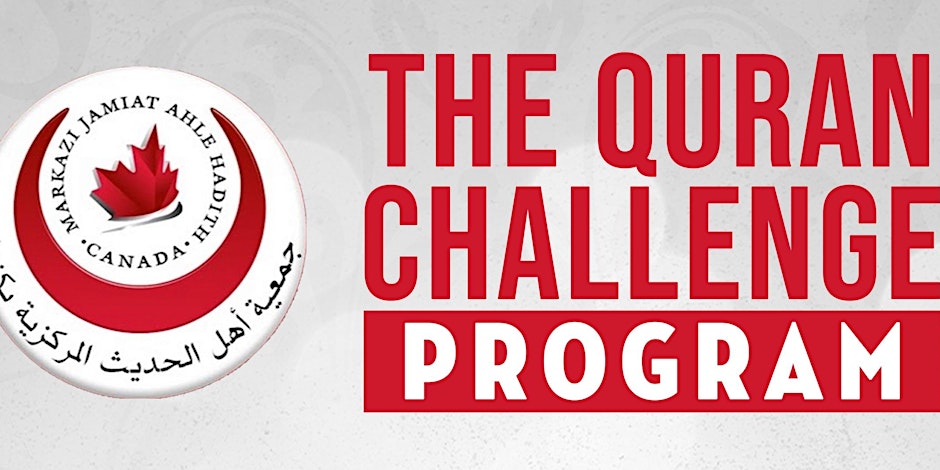 Description:
A new in-person and on-site program to help all ages and all Muslims connect to the Quran. We guarantee that by connecting to the Qur'an, you'll have more baraqah in your time and productivity in your day. Free trials available upon request and limited seats. May Allah SWT help connect our hearts the the Qur'an, Sunnah, and Akhirah.
*** PROGRAM DETAILS ***
The Ahle Hadith Society of Canada presents…
Choose an option or both steams:
1) Beginners: improve reading + improve pronunciation
2): Intermediate: memorize any Juz of the Qur'an (option to also memorize the entire Qur'an)
3) Advanced: gain Ijazah in Hafs an Asem or Al-Jazariyyah (for those who have already memorised the Qur'an)
Facilitator: Ustadh Dr. Mohamed Elkholy
-Completed hifdh in Egypt
-Ijazah in qiraat of hafs 'an asem
-Ijazah al-Muqaddimat ul-jazariyyah fi tajweed
-Based locally
Sign up and payment link:
https://www.eventbrite.ca/e/the-quran-challenge-program-tickets-702479504107
Join WhatsApp group:
https://chat.whatsapp.com/D93llLQTqncLlkjw2D2VyW
………..
"I don't have enough time for the Quran."
"I'm too old to read the Quran now."
"I plan to read the Quran later in my life."
"How will a connection to the Qur'an benefit me?"
"I need to improve myself before I can open the Quran."
"I thought the Qur'an is only for practice Muslims?"
……………..
Some people think they don't have time for the Quran.
Regardless of what is blocking our path, we promise you this:
A daily relationship with the Qur'an will add baraqah to your life. One of the scholars said: no one can say that they don't have time for the Qur'an, because the Qur'an only adds baraqah to one's life. In other words, by having a daily relationship with the Qur'an, you will find that you have more time, more effeciency, more productivity, and you will be more effective and energetic.
If for any reason, you don't find this to be true, we will happily refund your fees for that month.
F.A.Q.
1. Is this for brothers, sisters, and what are group?
Everyone. Adults are encouraged to attend and enroll. We will have both a male and female teacher, and we encourage individuals and families to attend together.
2. Is this on-site and in-person?
Yes.
3. I'm still not sure. Can I have a 1 day or 1 week free trial?
Yes. But please speak to us first.
……………..
Allah SWT says: "We send down the Qur'an as a healing and mercy for the believers" (Surah Al-Isra, 17:82)
The Messenger of Allah (sallahu alayhi wasalam) said:
"Verily, Allah has His own people among humanity." They said, "O Messenger of Allah, who are they?" The Prophet said, "They are the people of the Quran, the people of Allah and His chosen ones." Source: Sunan Ibn Mājah 215, Grade: Sahih (authentic) according to Al-Albani
---
Location:
Al Noor Academy
50 Steeles Avenue
East Milton , Ontario L9T 4W9 Canada
+ Google Map

---
More upcoming events