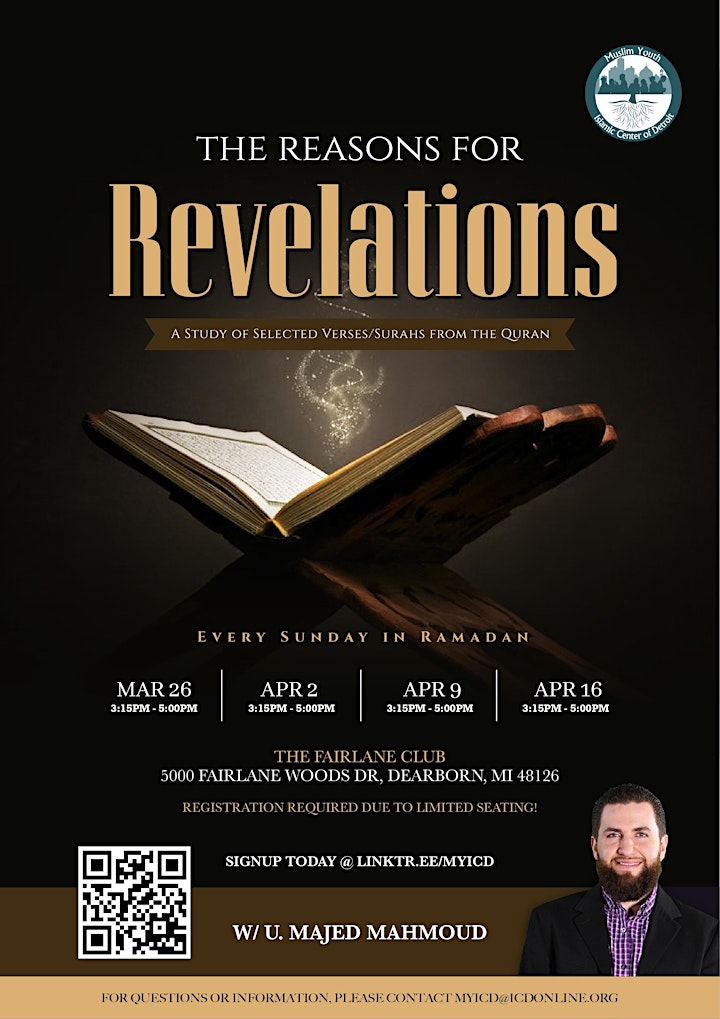 Description:
Let's get together every Sunday of Ramadan to study and connect with the Quran!
We are so excited to announce our first Ramadan program happening every Sunday during the month of Ramadan with U. Majed Mahmoud! It will be located at The Fairlane Club InshAllah 3:15-5PM.
U. Majed will be discussing the reasons for revelations which is a study of selected verses/surahs from the Quran. It is critical that very Muslim should comprehend and understand the verses that Allah sent to us in the Quran. Many of the verses of the Qur'an were revealed in response to a particular situation or question that arose in the young Muslim communities of Makkah and Madinah. By understanding the context in which particular verses were revealed, we can attain a deeper understanding of the meaning of these verses and better insight into how these verses guide aspects of our daily lives.
Date and Time: Every Sunday in Ramadan (3:15PM-5:00 PM)
Mar 26
April 2nd
April 9th
April 16th
Instructor: U. Majed Mahmoud
Bio: almaghrib.org/instructors/majed-mahmoud/
Questions: Email [email protected]
NOTE: 13 AND OLDER! There will be another program for middle school students.
Majed Mahmoud is one of the leading activists of Da'wah in his community. With his heart-touching reminders and soft approach, Majed makes Islam digestible and beloved to people of all ages.
Majed is a shining example for students seeking growth and development within Islamic Studies. He's the first graduate of AlMaghrib Institute to become one of its instructors, performing exceptionally in over 50 seminars including theology, Islamic jurisprudence, and Quranic Sciences. As Majed travels worldwide lecturing about different aspects of Islam, he works full-time as a mechanical engineer.
He has completed Bachelor's degree in Islamic Jurisprudence & Legal Theory from Al-Madinah International University. He also has a Bachelor's degree in Mechanical Engineering from the University of Windsor and a Master's degree in Business Administration from Wayne State University.
Majed lives in the United States with his wife and three children.
---
Location:
The Fairlane Club
5000 Fairlane Woods Drive
Dearborn , Michigan 48126 United States
+ Google Map

---
More upcoming events