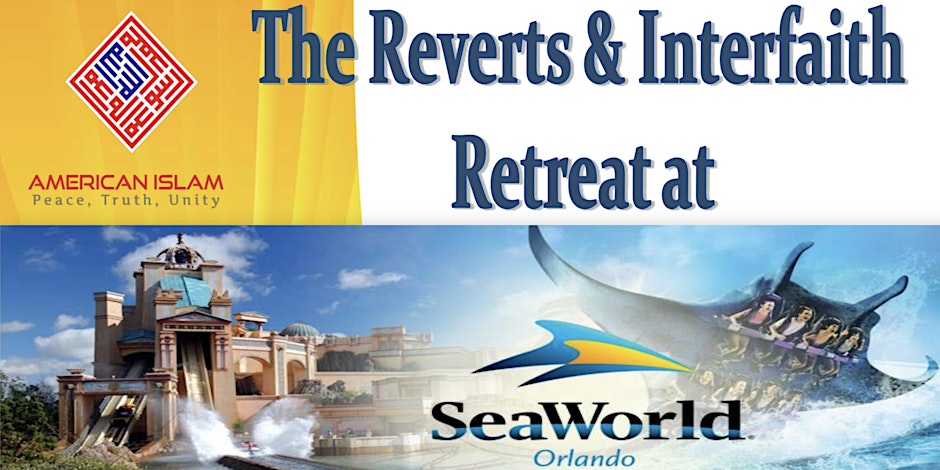 Description:
The Reverts and Interfaith Retreat offers an opportunity for activists, reverts and community leaders to share experiences, learn from experts, and meet American Islam leaders who share a commitment for peace and unity in the community.
RETREAT TOPICS INCLUDE: 
Overcoming the Challenges of Being Muslim
Making Healthy Relationships
Creating a Community for Reverts
Women of Faith Symposium: An Interfaith Dialogue
A Time for Fun, Socialization and Friendship
Family friendly Orlando Entertainment
SPECIAL TICKETS:
For Guests who are part of the American Islam Membership tickets are $79.00 Per Person (Please contact us by text at 202-660-8883)
For Sea World Annual Ticket Holders (Please contact us for Details by text 202-660-8883)
SPECIAL 2 DAY PRICE FOR $170 PER PERSON:
OPTION #1:
Includes Reverts Retreat Day and a 2ND afternoon day at Sea World In the future. (2nd day does NOT include parking)
OPTION #2:
Includes Reverts Retreat Day Sunday, March 19th and a 2ND with the Youth Retreat Day at Sea World on Saturday, March 18th. (2nd day does include parking)
SPECIAL BENEFIT FOR ATTENDING:
All participants will qualify for a Scholarship with the World of Knowledge Tour to Spain and Turkey in July.  
Learn more by visiting
WHY YOU SHOULD ATTEND:
a.     Gather with like minded American Muslim professionals, youth, reverts and peace advocates for networking opportunities
b.     Be part of the future American Muslim community
c.     Vacation with your family in Sunny Orlando and avoid the Winter cold with activities for an entire week
d.     Take advantage of a great package deal to enjoy Orlando and its fun activities in a healthy Islamic environment
e.     Visit Orlando theme parks
f.      Hotel accommodations at one of the best hotels in Orlando at an affordable price
g.     Activities for the entire family
VISIT www.American-Islam.org for MORE DETAILS ABOUT THE RETREAT
For Sponsorship opportunities contact us at [email protected] 
This is a private event.
Space is limited, admission to the retreat is on first come basis.
All attendees MUST register to be admitted.
Retreat organizers reserve the right to decline any registration.
All attendees MUST abide by rules throughout the retreat.
For Questions email us at [email protected] or by text at 202-660-8883
---
Location:
Sea World Orlando - Ports of Call Entrance
7007 Sea World Drive
Orlando , Florida 32821 United States
+ Google Map

---
More upcoming events