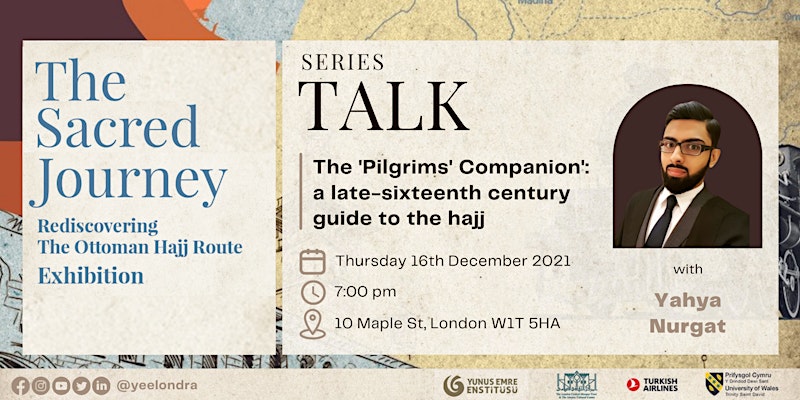 Description:
"The 'Pilgrims' Companion': A Late-Sixteenth Century Guide to the Hajj" with Yahya Nurgat
The Hajj is one of the five pillars of Islam central to Muslim belief and is a deeply personal journey. Taking place for centuries, this monumental journey has left physical and spiritual traces across the world and continues to be experienced by people from all corners of the globe today.
In this vein, Yunus Emre Institute in London is hosting PhD candidate Yahya Nurgat on Thursday 16th December, 7 pm (UK time) online for its second seminar of its "The Sacred Journey: Rediscovering the Ottoman Hajj Route" exhibition and talk series. Nurgat will be discussing "The 'Pilgrims' Companion': a late-sixteenth century guide to the hajj".
Abstract:
From trade and diplomacy to warfare and migration, the roads of the Ottoman empire were always bustling with activity. But perhaps the largest, and undoubtedly the most regular, flow of peoples and commodities through the empire's arteries was the hajj caravan. Every year, pilgrims from across the Muslim world streamed through Istanbul, Cairo, and Damascus, all of which were important rallying points for the pilgrimage to Mecca. Yet little is known about the everyday experience of pilgrims travelling along these roads.
The Enisü'l-Huccac ('Pilgrims' companion') of Seyyid Mehmed el-Tennuri is a thus-far undiscovered text which provides a fascinating insight into the hajj journey at the turn of the eleventh century AH (seventeenth century CE). Tennuri was a scholar and notable of Kayseri who undertook the hajj in 998-999 (1590-91). He subsequently composed a lengthy guide to the journey and ritual of the hajj which survives in a single known copy, perhaps in the author's own hand. This talk will introduce Tennuri's hajj guide, using it as a point of departure from which to understand the everyday experience of pilgrims travelling the hajj road, from the practical aspects of the journey to the sacred.
Guest Speaker:
Yahya Nurgat
Date:
Thursday 16th December 2021
Time:
19:00 pm (BST)
Online Webinar via ZOOM 
The exhibition can be visited during the hours below.
Exhibition Dates: 18h November – 17th December 2021
Visiting Times: Mondays – Fridays, 10 am – 6 pm
Venue: Yunus Emre Enstitüsü – London, 10 Maple Street, W1T 5HA
Admission: Free
For more information on these talks and to sign up, please visit the Yunus Emre Enstitüsü – London website, https://yeelondon.org.uk/ or email the Institute via [email protected].
This exhibition is organized by Yunus Emre Enstitüsü – London in collaboration with the University of Wales Trinity St David, London Central Mosque and Turkish Airlines
---
Location:
Yunus Emre Enstitüsü - London
10 Maple Street
London , W1T 5HA United Kingdom
+ Google Map

---
More upcoming events