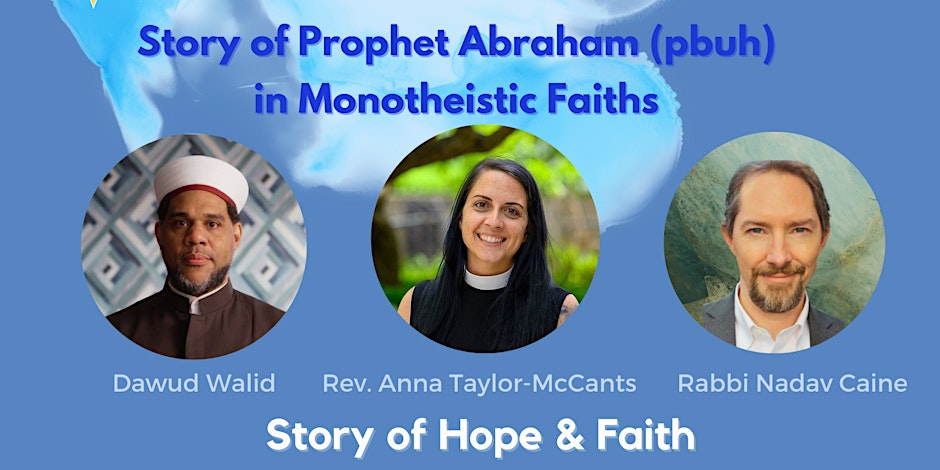 Description:
Prophet Abraham (pbuh)​ is considered the father of ​monotheistic religions and usually a common ground" between Islam​, ​Christianity, ​and ​Judaism​.​ But at the same time, it also narrates a different story in each faith tradition. What are the similarities and differences? What lessons can we learn, and how in today's America, Prophet Abraham's story gives us hope to build bridges and care for a shared humanity?
Join us for a panel and community discussion to explore the ​story of Abraham in monotheistic faith ​traditions and how we can learn to build bridges of friendship among each other.
Media Release: By registering for this event, attendees of all ages agreed that any pictures taken at the ZOOM event would be used by IRT on its Social media platform and the website.
Suggested Donation: $5, $10, other. https://irtwc.org/donate
MEET OUR SPEAKERS:
Dawud Walid is currently the Executive Director of the Michigan chapter of the Council on American-Islamic Relations (CAIR-MI), member of the Imams Council of Michigan, member of the Aspen Institute Racial Justice and Religion Commission and Senior Fellow at Auburn Seminary based in New York.
He previously served as an imam at Masjid Wali Muhammad in Detroit and the Bosnian American Islamic Center in Hamtramck, Michigan. He is the author of the books Futuwwah and Raising Males Into Sacred Manhood, Blackness And Islam and Towards Sacred Activism, co-author of the books Centering Black Narrative: Black Muslim Nobles Among the Early Pious Muslims and Centering Black Narrative: Ahl al-Bayt, Blackness & Africa and author of the foreword in the book The Spirits of Black Folk: Sages Through The Ages as well as essays in the 2012 book All-American: 45 American Men on Being Muslim as well as the 2014 book Qur'an in Conversation. Walid has lectured at over 100 institutions of higher learning in North America, the Caribbean, Great Britain and West Africa about Islam and social justice. He also has been interviewed and quoted in approximately 150 media outlets ranging from the New York Times, Wall St Journal, National Public Radio, CNN, BBC, FOX News and Al-Jazeera. Walid was a 2011 – 2012 fellow of the University of Southern California (USC) American Muslim Civil Leadership Institute (AMCLI) and a 2014 – 2015 fellow of the Wayne State Law School Detroit Action Equity Lab (DEAL). He has also received awards of recognition from the city councils of Detroit and Hamtramck and from the Mayor of Lansing as well as a number of other religious and community organizations.
Pastor Anna (she/her) was ordained to the ministry of word and sacrament on January 30, 2021. She received her M.Div in May 2021 from United Lutheran Seminary in Philadelphia and Gettysburg, PA. She is originally from East Tennessee but has lived in Syracuse, NY and Philadelphia, PA since beginning her ministry. Pastor Anna currently resides in Ypsilanti with her wife, Monique, and children, Laynee and Ezra. You will almost always find her with a coffee in hand, and most everything in her home is lavender or pumpkin scented depending on the season. Her signature lavender lemonade is a staple of the FedUp Food Truck, and her Annual Pumpkin Party is an event that FedUp guests can look forward to every Fall.
Pastor Anna is passionate about antiracism work and queer inclusion in the Church. She also cares deeply for those who are food and housing insecure. FedUp Ministries is the place where these passions meet. Pastor Anna loves team ministry, and she's very excited to be a member of Zion Lutheran Church's pastoral staff as she lives into her role as Outreach Pastor there.
Rabbi Nadav Caine studied religion and philosophy at Princeton (AB '88), Harvard (MTS '93), and Stanford (ten years of doctoral work) universities while teaching widely in Jewish education. Ordained as a Conservative rabbi, he served for eleven years at a synagogue in Poway, California, and has been the rabbi of Beth Israel Congregation in Ann Arbor since 2018. He teaches the interconnections among the mystical, historical, scientific, and psychological dimensions of Judaism. In his sermons, he focuses on applying Torah to the issues of our day.
---
---
More upcoming events