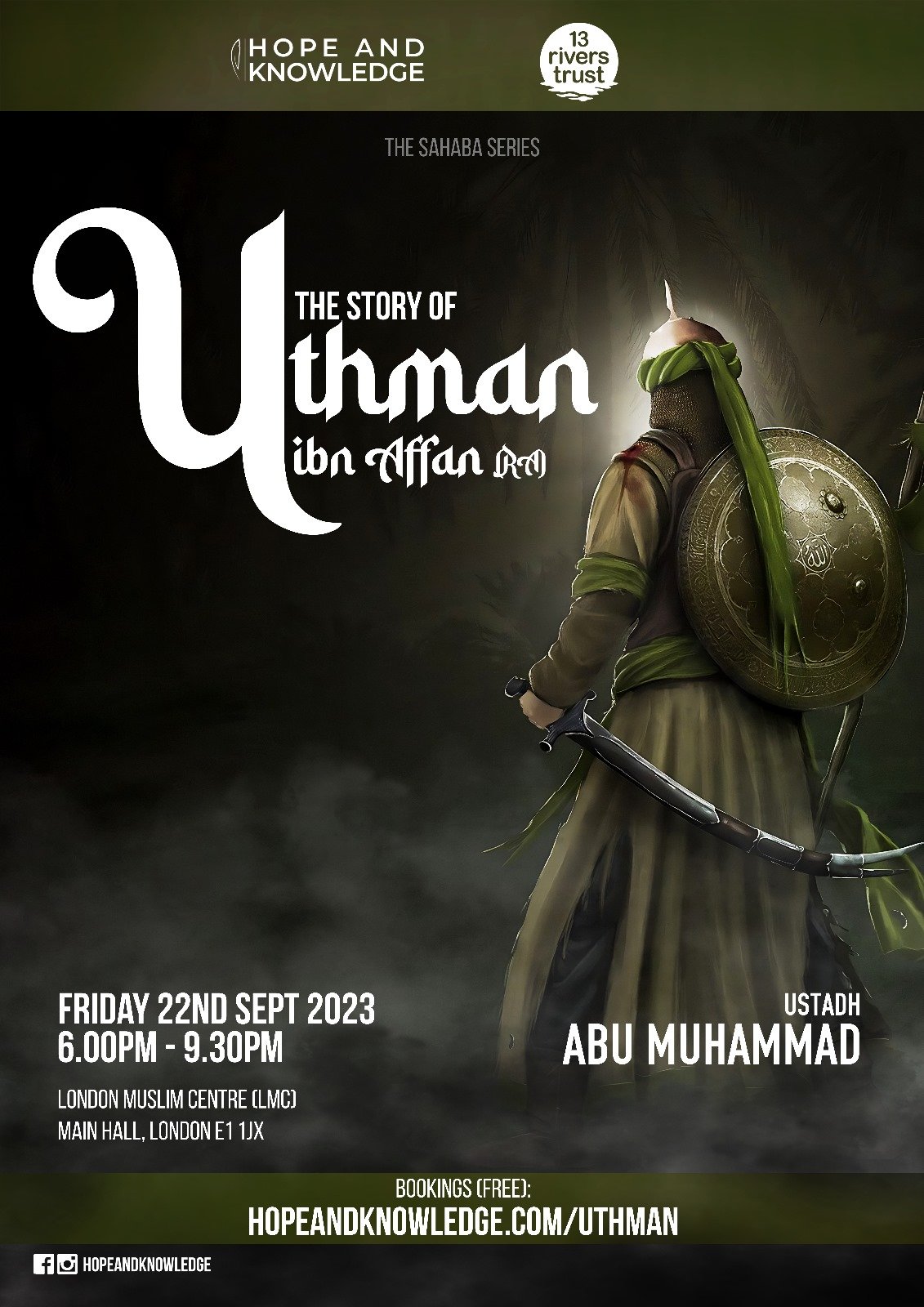 Contributed By:
events coordinator
Organizing Institution:
Hope & Knowledge
Start Date:
September 22, 2023 (6:00pm)
End Date:
September 22, 2023 (9:30pm)
Cost:
Free
Website:
https://www.hopeandknowledge.com/uthman
East London Mosque & London Muslim Centre Main Hall, Ground Floor – London – United Kingdom
Description:
رضي الله عنه
"O people fear Allah, for fear of Allah is a treasure. The smartest of the people is the one who checks on himself and strives for that which comes after death, strives to acquaint some of the light of Allah for his grave and fears lest Allah raise him blind when he had sight in this world." (Uthman Ibn Affan رضي الله عنه)
DELIVERED BY USTADH ABU MUHAMMAD
FRIDAY 22ND SEPTEMBER 2023 | 6.00PM – 9.30PM
LONDON MUSLIM CENTRE (ELM), MAIN HALL, GROUND FLOOR
Learn and understand the life and legacies of Uthman Ibn Affan رضي الله عنه
EXPLORE:
Uthman رضي الله عنه family, lineage / background

Uthman رضي الله عنه before Islam

Uthman رضي الله عنه with the Prophet ﷺ

Uthman رضي الله عنه character; strength generosity, chivalry

Uthman رضي الله عنه at home

Uthman رضي الله عنه in worship

Uthman رضي الله عنه in public; as a leader

Uthman رضي الله عنه death, legacies'
SPEAKER PROFILE:
Ustadh Abu Muhammad has a passion for teaching students key Islamic concepts that can be easily applied to their spiritual and practical development. His powerful and passionate style of teaching combined with his ability to break down and effectively explain areas of interest, make him the perfect teacher for this subject. Ustadh has been blessed to have studied under Scholars from the widest spectrum of backgrounds including Saudi Arabia, Nigeria, Sudan, Pakistan and Egypt. He has run halaqas, marriage counselling, taught duroos, delivered lectures and khutbahs across the U.K. and Europe.
---
Location:
East London Mosque & London Muslim Centre Main Hall, Ground Floor
46 Whitechapel Road
London , E1 1JX United Kingdom
+ Google Map

---
More upcoming events