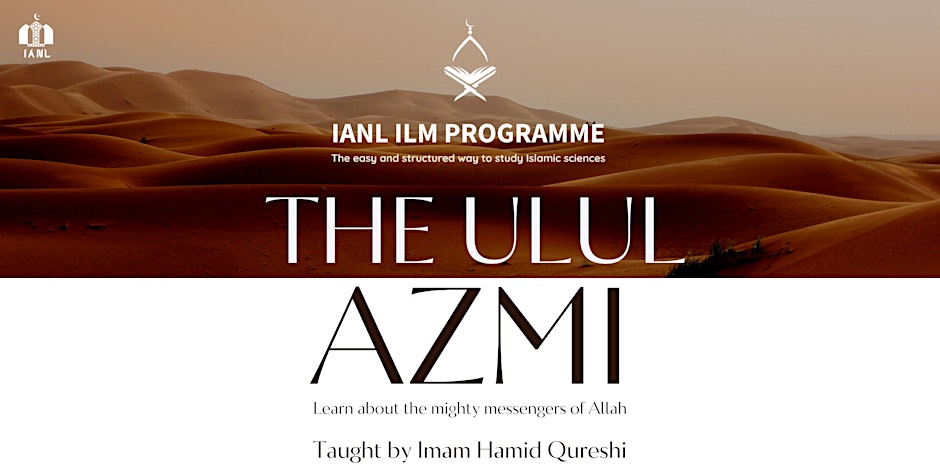 Description:
The Ilm Programme is a new initiative of the Islamic Association of North London (IANL). The Programme will cover Islamic basics and essentials across the broad range of all Islamic sciences such as theology, law, Quran, hadith and history, whilst also facilitating the study of more advanced levels of knowledge via a trusted source.
By the end of the Ilm Programme students should have a firm grounding in the knowledge of Islam, its development, fundamentals, nuances and how to apply it in the modern world. This will enable them to a) come closer to Allah via seeking knowledge, and b) be encouraged to apply what it means to be a Muslim in their communities.
This Programme is open to all brothers and sisters of all backgrounds regardless of age or previous Islamic knowledge.
Ulul Azmi Course Overview
The course is suitable for people of all levels as we will cover the basics whilst also addressing more advanced topics so we all develop in our journey of seeking knowledge.
The course will cover the following key points:
What does Ulul Azmi mean?
Who are considered Ulul Azmi from the prophets and messengers of Allah and what are the divergent opinions?
What sets the Ulul Azmi apart from other messengers?
What do they have in common with each other?
What do each have that is exclusive to them only?
What was relevant from the lives of Ulul Azmi to be revealed to the Prophet Muhammad (saw) in the Quran?
What are the key take-aways for us in the 21st century?
Teacher Biography
The course will be taught by Imam Hamid Qureshi.
Imam Hamid was born and raised a Finchlean having attended the Madrasa at 36 Long Lane (where the Masjid used to be) and secondary school at Christ's College Finchley.
Having finished his secular education, Imam Hamid began to pursue an understanding of the Islamic disciplines by travelling to Cairo, Egypt, and joining Al Azhar University. He received a diploma from the Islamic Missions College, Al Azhar, in Islamic Studies. He then went on to complete a degree in Islamic Law at Al Azhar University and, thereafter, undertake a Masters in Islamic Political Science.
Imam Hamid has since returned to Finchley becoming an Imam at the Islamic Association of North London (IANL), delivering intensive courses, detailed seminars and inspirational talks. He has recently also taken up the position as Director of IANL.
Outside of work, Imam Hamid enjoys reading, playing football, and cycling in the afternoons.
Course Information
The course will take place on the first floor of IANL for brothers and sisters.
Brothers and sisters will have full access to the teacher. Interaction and participation is encouraged to make sure we get the most out of this course.
Light refreshments will be provided and there will be breaks for prayers.
Attendees are encouraged to be prompt in their arrival to sessions due to the tight schedule. Registration opens at 12.30pm, where attendees can sign in and collect their binders. The first full session will begin after the Dhuhr prayer.
The course fee is non-refundable and will be put towards the running of IANL.
If you are unable to finance the course fee or for any other questions email [email protected]
---
Location:
Finchley Mosque
685 High Road
London , N12 0DA United Kingdom
+ Google Map

---
More upcoming events