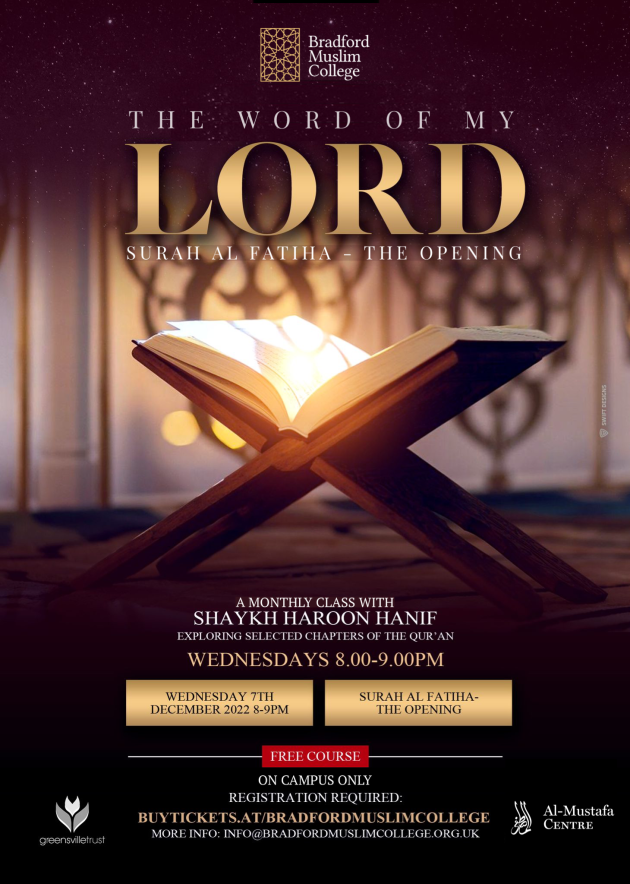 Description:
Bradford Muslim College in association with Mustafa Mount is pleased to present: 
THE WORD OF MY LORD: A monthly Tafsir Class with Shaykh Haroon Hanif
First Wednesday of every month
8.00.900pm
Bradford Muslim College, Al-Mustafa Centre, BD8 9LN
Free class
On campus only
Open to all
Registration required
First class – Surah Al Fatiha
About the teacher: Shaykh Haroon Hanif 
Shaykh Haroon Hanif began his path of studying Islam almost twenty years ago. His path of learning began with studying with Shaykh Hamza Yusuf in Liverpool who encouraged him to travel. He travelled to France to study Arabic at IESH for one year.
He returned and spent a decade working as a Housing Officer whilst at the same time continuing his Islamic studies. He received a grounding in a number of sciences, particularly jurisprudence and language. During this time he taught students privately and on courses nationally.
He then travelled to Syria in 2007 were he spent three years completing his studies. There he sat in the classes with some of the greatest scholars of Damascus including Shaykh Said Ramadan al-Buti and Shaykh Usama Rifa'i. He studied with many scholars particularly Shaykh Muhammad Jum'ah, Shaykh Adnan Darwish and Shaykh Abdul Hakim Uthman.
He returned in 2010 when he took up post as Resident Teacher with Greensville Trust in Liverpool. He travels across the country delivering lectures and teaching on courses and has translated a number of traditional Islamic texts into English.
He is married with two children and currently resides in Liverpool.
---
Location:
Bradford Muslim College - Al-Mustafa Centre
249 Kensington Street
Bradford , BD8 9LN United Kingdom
+ Google Map

---
More upcoming events