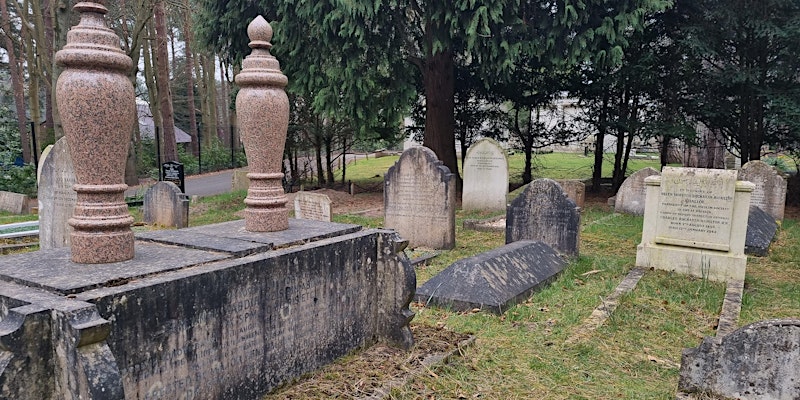 Description:
Join Habitats & Heritage on the 30th May for a tour of Brookwood Muslim Cemetery, the Shah Jahan Mosque & Woking Muslim War Cemetery.
Join us on the 30th May for a tour of Brookwood Muslim Cemetery as part of our, Burton: Exploring without boundaries project.
Join us for a guided tour around three of Britain's most important sites of Islamic heritage: the Muhammadan* Cemetery, which was the country's first Muslim cemetery founded in 1884; the Shah Jahan Mosque, Britain's first purpose-built mosque built-in 1889, and the Woking Muslim War Cemetery, the only exclusive burial ground for Muslim soldiers in north-western Europe, completed in 1915. The tour will also involve visits to the final resting place of some of Britain's earliest and most prominent Muslims in order to reveal the long-forgotten narrative of the mosque and community once dubbed, 'The Mecca of Europe'. It will be led by one of the country's foremost experts on Muslim heritage, Tharik Hussain, who is also the creator of Britain's first Muslim heritage trails and author of the highly-acclaimed book, Minarets in the Mountains; a Journey into Muslim Europe. Follow this link for further information about Tharik.
*Muhammadan is an archaic term for a Muslim which some Muslims find derogatory today. The Muhammadan Cemetery is now known as Plot M1.
Tickets: £25. (Booking fee also applies. The ticket does not cover the train fare)
Timetable for the day:
11:00am – Meet at Brookwood Station (South Western Railway);
11:10am – Tour of Brookwood Cemetery (Muhammadan) begins;
12:45pm – Taxis to Shah Jahan Mosque (15min journey time. Fare included in ticket price);
1:00pm – Lunch break at Shah Jahan Mosque (tea & biscuits provided. Bringing a packed lunch is advised);
1:30pm – Tour of Sha Jahan Mosque;
2:30pm – Walk to Woking Muslim War Cemetery (10 minute walk);
2:45pm – Tour of Woking Muslim War Cemetery;
3:30pm – Aim to finish. (walk to Woking Station is approx. 20mins.).
This walk is part of the Habitats & Heritage project to conserve the mausoleum of Sir Richard Burton in Mortlake. Burton explored much of the middle east, learning Arabic and performing the Hajj. Sir Richard along with his wife Lady Isabel is laid to rest in a Catholic graveyard inside an Arabian-style tent with Islamic iconography. Follow this link to learn more about Sir Richard Burton.
---
Location:
Brookwood
Connaught Road
Brookwood , GU24 0ER United Kingdom
+ Google Map

---
More upcoming events