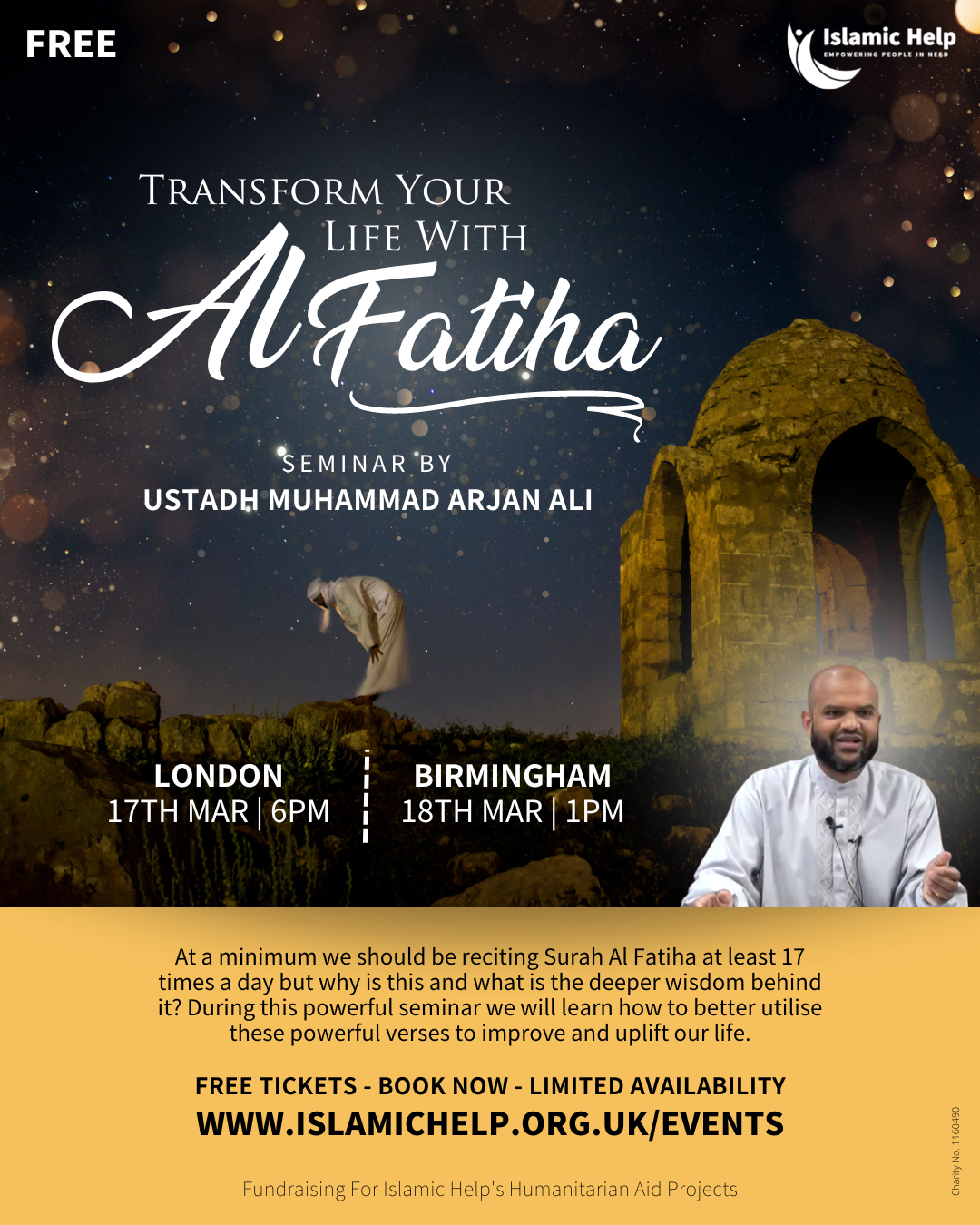 Description:
Doors Open 6:00PM – Seminar Starts 6:30PM After Maghrib Jama'ah.
The Messenger of Allah (pbuh) said:
"Shall I not teach you the most superior Surah in the Qur'an?" He said, '(It is), 'Praise be to Allah, the Lord of the worlds. ' (i.e., Surat Al-Fatiha) which consists of seven repeatedly recited Verses and the Magnificent Qur'an which was given to me."
[Sahih al-Bukhari 5006]
It's common to fall into a trap whereby we're reciting without understanding and praying without Khushu. Things can become habitual and mechanical, and as a result we don't see any improvement or any progress. Isn't it time to change this routine?
Join Islamic Help and Ustadh Muhammad Arjan Ali on this incredible pre-Ramadan seminar as we endeavour to make a deeper connection with one of the greatest Surah's in the Qur'an, Surah Al-Fatiha. Explore how Surah Al-Fatiha can positively impact your life and bring another level of Khushu in your Salah. Imagine the improved connection you'll make with Allah!
Course Outline:
Surah Al-Fatiha: its meaning and message.
Bring the message of Surah Al-Fatiha into your life.
12 habits of a successful person from Surah Al-Fatiha.
Surah Al-Fatiha: A Special Conversation.
Benefits of learning about Surah Al-Fatiha:
Read Surah Al-Fatiha with understanding and bring its practical benefit into your life.
Start to pray with focus and greater Khushu!
Learn how to learn.
Teacher:
Ustadh Muhammad Arjan Ali, has been teaching Islamic subjects more 25+ years. He has conducted many study circles, seminars on Islam, guided tour of Mosques for non-Muslims, Multi-faith forum, University and community lectures. For the last 12+ years he is the leading tutor for Understand Quran Academy (UK), specialising in teaching Quranic Arabic to English speaking students. His teaching style is highly interactive, student-focused, and spiritually & intellectually engaging.
CHILDREN:
We appreciate that it can be difficult to attend valuable seminars when you have children to take care of and its difficult to find a child minder. Children are welcome to attend this event with you however they must be kept with you at all times. If your child is restless or makes a lot of noise, please do not bring them to this event as they will disturb other attendees and the seminar instructor. If your child makes a lot of noise and you are unable to calm them down, if they continue to run around the venue or between the seating areas, we will unfortunately have to ask you to leave. If you bring your child in a pram / push chair please DO NOT block the pathway with the pram / push chair as this will cause a health and safety issue and we will ask you to move or leave.
NOTE:
Food will not be served at this event, as this event is in the evening, we appreciate that some people might want to bring food with them, this is perfectly fine however please try to avoid any food which carries a strong smell as this could disturb other attendees. We will try our best to have a snack stall available during the event where items can be purchased.
During this seminar, we will have a short fundraising segment to support Islamic Help's Humanitarian Aid Projects.
---
Location:
London Muslim Centre, Ground Floor Hall
46 Whitechapel Road
London , E1 1JX United Kingdom
+ Google Map

---
More upcoming events