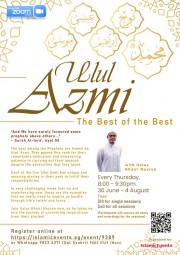 Description:
It is part of the pillar of our faith (Iman) to believe in the Prophets sent down by Allah Ta'ala, specifically the 25 of them who were mentioned in the Al-Quran. 
Have we ever wondered, who is the best among these Prophets, who were Allah's chosen people?
Is it possible to have a hierarchical order even among the Prophets? 
Allah said in Surah Al-Isra', "And We have surely favoured some prophets above others …"
The best among the Prophets are known as Ulul 'Azmi. They gained this rank for their remarkable dedication and unwavering patience in carrying out their amanah despite the adversities that they faced. 
Each of the five 'Ulul Azmi has unique and amazing stories in their path to fulfil their responsibilities. Allah Ta'ala with his Hikmah narrated these stories in such a detailed manner for the sole reason that humanity will benefit immensely from them in their daily worldly lives. These are stories of magnificent Men but are very much relatable to us as servants of Allah Ta'ala. 
Join Ustaz Khairi Nazron as he takes us into the journey of uncovering inspirations from their stories. In very challenging times that we are experiencing now, these are the examples that we really need to inspire us hurdle through life's twists and turns. 
Allah Ta'ala said in Surah Al-Ahzab, "We took a solemn pledge from the prophets- from you [Muhammad], from Nuh, from Ibrahim, from Musa, from Isa, son of Maryam- We took a solemn pledge from all of them …"
Course Outline:
Week 1 (The story of Nabi Nuh a.s.) – 30 June 2022
• The difference of Nabi & Rasul
• Who are the Ulul Azmi?
• How to react to haters
• Ways to handle rejection in life
Week 2 (The story of Nabi Ibrahim a.s.) – 7 July 2022
• Priority goes to immediate family members
• Approaching challenging family members
• Is every test a blessing?
• What to instil in a child
Week 3 (The story of Nabi Musa a.s.) – 14 July 2022
• Life's pressure is a test to our Faith
• Not all task can be completed ALONE
• Mentorship and guidance is always needed
• Is our knowledge updated yet?
Week 4 (The story of Nabi Isa a.s.) – 21 July 2022
• Existence of Miracles
• Human knowledge is limited
• The importance of having support system
Week 5 (The story of Nabi Muhammad s.a.w.) – 28 July 2022
• Broken family is not an excuse to be broken
• Challenges may come from within
• The importance of putting in effort and having endurance in life
• Faith is the key to solutions
 Week 6 (Reflection) – 4 August 2022
• Understanding current challenges in our context
• How Islam is relevant in solving daily issues
• We are not prophets, we are the people of the prophets
Details
Venue: Online (Zoom)
Registered participants will be invited into the Zoom session.
Do download Zoom.us on your device if you have not done so. 

Do check your email for the link 4 hours before the session start.
Day/Date : Starting on Thursday, 30 June 2022 (Session is on every Thursday)
• Total of 6 weeks
• Time : 8:00pm to 9:30pm
• 1.5 hours of weekly session (lesson + Q&A)
Fees : 
$10 per session (Participants will be given notes + a recording of that day session ONLY)
$40 non-member (Participant will be given access to the recording of all the 6 sessions)
$30 ISGN member (participant will be given access to the recording of all the 6 sessions)
(IslamicEvents.sg Members – If you are already a member, do get your ISE Membership Number ready before registering. (eg: ISE 000001)
Be an IslamicEvents.sg member and enjoy immediate discounts and gain more points, visit >> https://membership.islamicevents.sg/
---
---
More upcoming events