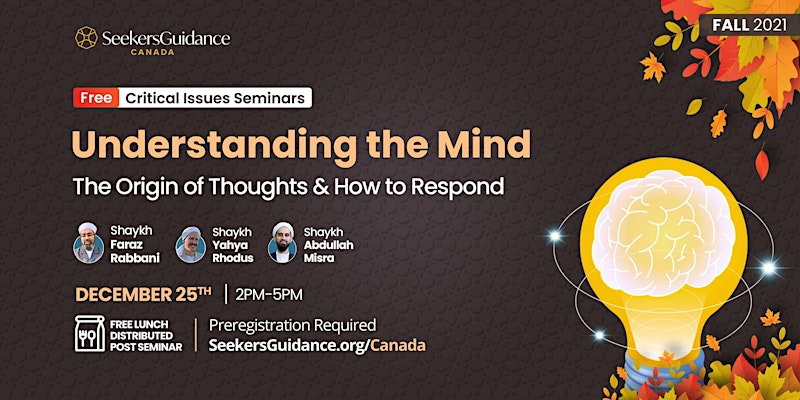 Description:
Join us for this Critical Issues Seminar on which delves into understanding thoughts and how to respond to them.
Our minds perform so many actions that at times it can be confusing. How many times have you had difficulty focusing due to multiple thoughts crossing your mind? Sometimes these thoughts can even interfere with our most intimate moments, such as when we are in prayer.
Join us for this important seminar in which our teachers will delve into understanding our thought processes from an Islamic perspective. This will help us to make more sound decision making, and keep us from making poor judgment calls on how to conduct ourselves in various situations. By understanding where thoughts originate from, we can begin to understand if and how we should respond to those ideas.
Featuring special guest speaker Shaykh Yahya Rhodus, of the Maqasid Institute (almaqasid.org)
We look forward to seeing you at this seminar. This seminar will also be broadcast online via seekersguidance.org/live
---
Location:
SeekersGuidance Canada
220 Britannia Road E
Mississauga , Ontario L4Z 1S6 Canada
+ Google Map

---
More upcoming events