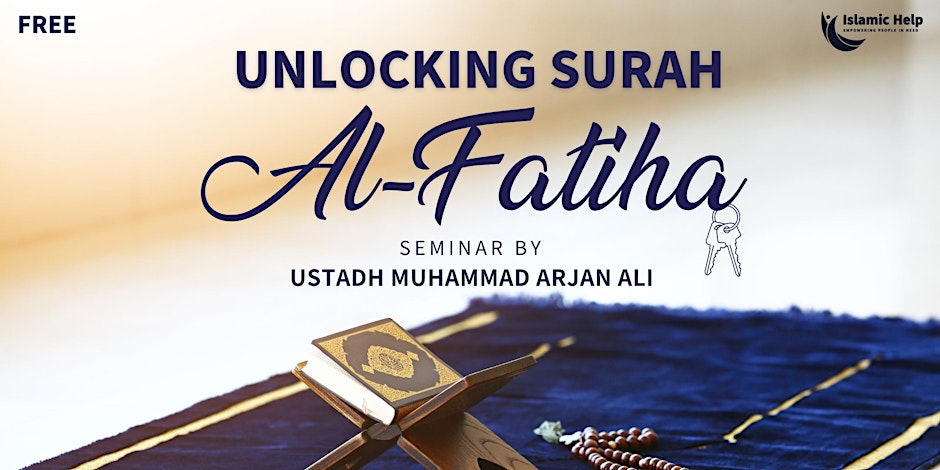 Description:
Doors Open 6:30PM – Seminar Starts 7:00PM
Have you ever wondered why we are required to recite Surah Al-Fatiha at least 17 times a day and why it's so important for Salah?
It's common to fall into a trap whereby you're reciting without understanding and praying without Khushu. Things can become habitual and mechanical, and as a result we don't see any spiritual improvement or progress. It's time to change this routine and elevate your Salah!
Join Islamic Help and Ustadh Muhammad Arjan Ali on this transformative seminar as we endeavour to make a deeper connection with one of the greatest Surah's in the Qur'an, Surah Al-Fatiha. Explore how Surah Al-Fatiha can positively impact your life and bring another level of Khushu in your Salah. Imagine the improved connection you'll make with Allah!
The Messenger of Allah (pbuh) said:
"Shall I not teach you the most superior Surah in the Qur'an?" He said, '(It is), 'Praise be to Allah, the Lord of the worlds. ' (i.e., Surat Al-Fatiha) which consists of seven repeatedly recited Verses and the Magnificent Qur'an which was given to me."
[Sahih al-Bukhari 5006]
Course Outline:
Surah Al-Fatiha: its meaning and message
Surah Al Fatiha: an intimate conversation with Allah.
12 habits of a successful person from Surah Al-Fatiha
Language of Al Fatiha.
Learning outcome:
Read Surah Al-Fatiha with understanding and bring its practical benefit into your life.
Start to pray with focus and greater Khushu!
Learn how to learn.
Teacher:
Ustadh Muhammad Arjan Ali, has been teaching Islamic subjects more 25+ years. He has conducted many study circles, seminars on Islam, guided tour of Mosques for non-Muslims, Multi-faith forum, University and community lectures. For the last 12+ years he is the leading tutor for Understand Quran Academy (UK), specialising in teaching Quranic Arabic to English speaking students. His teaching style is highly interactive, student-focused, and spiritually & intellectually engaging.
TERMS & CONDITIONS AND EVENT RULES:
1. Strictly no video or audio recording is allowed.
2. Please try to wear a mask to help prevent the spread of Covid-19.
3. If you have any Covid-19 symptoms, please do not attend this event.
4. Seating will be segregated and is on a first-come, first-served basis, this means if you arrive late, there is a chance you will not be allowed to enter the venue as there is a seating capacity. Due to the number of people who book tickets and then do not turn up to events, we need to oversubscribe for the events.
5. Organisers reserve the right to refuse entry or evict any individual or group at any time at the organisers discretion.
6. Your ticket has no monetary value, we will not provide any cash or financial refunds.
CHILDREN:
PLEASE NOTE, THIS SEMINAR WILL DISCUSS SOME TOPICS WHICH MAY FRIGHTEN YOUNG CHILDREN, IF YOU THINK YOUR CHILD MAY BE FRIGHTENED BY THE TOPICS OF JINN OR EVIL SPIRITS PLEASE DO NOT LET THEM ATTEND THIS SEMINAR.
We appreciate that it can be difficult to attend valuable seminars when you have children to take care of and its difficult to find a child minder. Children are welcome to attend this event with you however they must be kept with you at all times. If your child is restless or makes a lot of noise, please do not bring them to this event as they will disturb other attendees and the seminar instructor. If your child makes a lot of noise and you are unable to calm them down, if they continue to run around the venue or between the seating areas, we will unfortunately have to ask you to leave. If you bring your child in a pram / push chair please DO NOT block the pathway with the pram / push chair as this will cause a health and safety issue and we will ask you to move or leave.
NOTE:
Food will not be served at this event, as this event is in the evening, we appreciate that some people might want to bring food with them, this is perfectly fine however please try to avoid any food which carries a strong smell as this could disturb other attendees. We will try our best to have a snack stall available during the event where items can be purchased.
During this seminar, we will have a short fundraising segment to support Islamic Help's Humanitarian Aid Projects.
PLEASE SHARE THIS POSTER WITH YOUR CONTACTS!
---
Location:
The East London Mosque & London Muslim Centre
82-92 Whitechapel Road
London , E1 1JQ United Kingdom
+ Google Map

---
More upcoming events