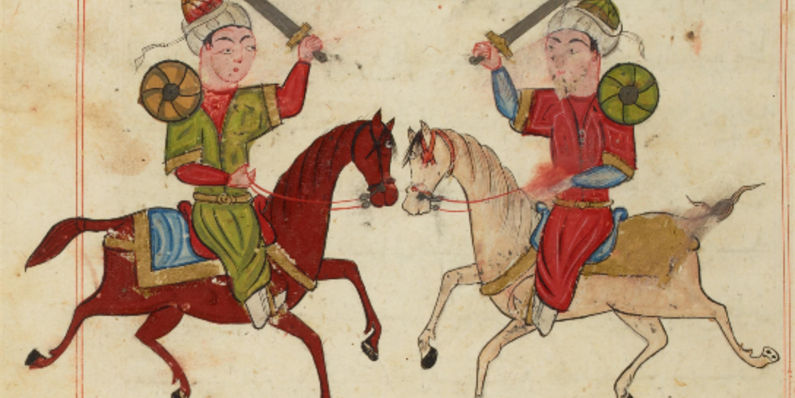 Description:
The course presents Muslim material cultures in a very specific context: warfare in Egypt and Middle East during the Medieval and Modern Ages. War played a very important role in Muslim cultures and through the study of military architecture and arms and amour, the course will explore art and architecture in a war context to explain identity and changes in Muslim societies from the Arab conquest to the eve of the colonial period.
Aims of the course
Analyse and understand monumental military architecture, fortresses, castles, and city walls
Describe and interpret oriental arms and armour, their origins and influences, and their symbolic, aesthetic and social meanings
Receive a methodological background on the historiography of Muslim warfare
Have a systematic and nuanced understanding of the Arab conquests, the Crusades and jihad
Understand the impact of the religion in Muslim Arts and Architecture, and how they relate to their wider Islamic and Mediterranean contexts.
Course Leader
Professor Stéphane Pradines (Ph.D. in Islamic Archaeology from Sorbonne University, Paris, 2001), is Professor of Islamic Art, Architecture and Archaeology at AKU-ISMC, London and an archaeologist working in Egypt, East Africa, Pakistan and the Maldives. He is a specialist of Muslim warfare in the Medieval Middle East and Muslim trade in the Indian Ocean. Professor Pradines is the Editor-in- Chief of the Open Access Journal of Muslim Material Cultures. Prior to joining AKU-ISMC in 2012, he oversaw the Islamic Archaeology Department at the French Institute in Cairo. His books include Fortifications et urbanisation en Afrique orientale, 2004, Gedi, une cité portuaire swahilie, 2010, Earthen Architecture in Muslim Cultures: Historical and Anthropological Perspectives, 2018, Ports and Forts of the Muslims. Coastal Military Architecture, from the Arab Conquest to the Ottoman Period, 2020, La Collection d'armes orientales de Pierre Loti, 2019, and Mosques in Sub-Saharan Africa, 2022.
Date and time 
04 December| 13:30 – 16:00 (London time)
11 December | 13:30 – 16:00 (London time)
Tickets
£79 professionals | £55 students, AKU alumni and staff. The number of tickets is limited
Note
The course will be delivered via Zoom. Readings and further details will be provided later upon registration.
This course will not be recorded.
Image Credit
Mamluk military exercise in Treatise on Military Art. [1470] Retrieved from the Library of Congress, World Digital Library – Partner National Library of France
---
---
More upcoming events