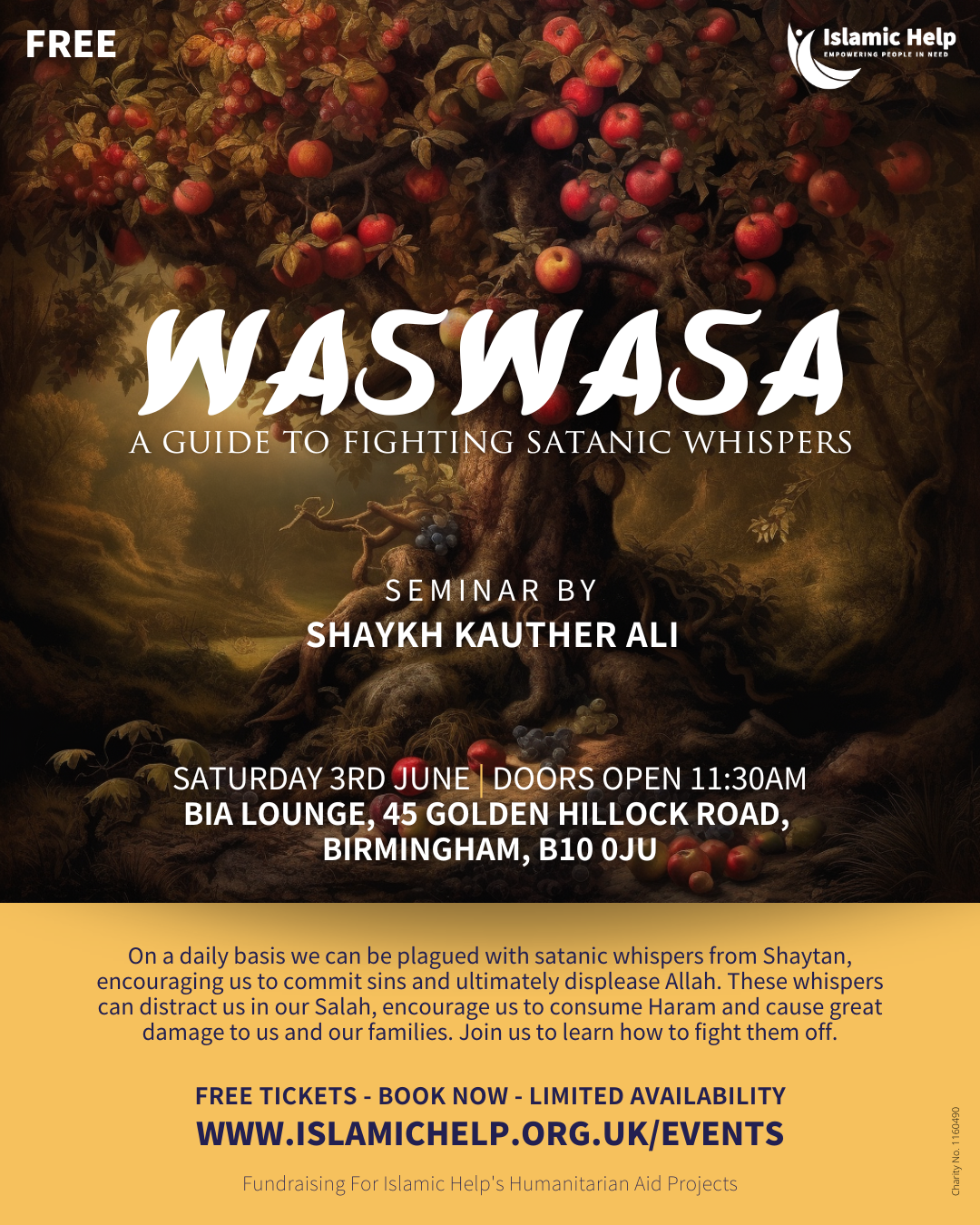 Description:
Do you hear those silent whispers too? Do you sometimes second guess yourself and have doubts whilst praying or performing wudu? That is Shaytan trying to play his tricks on you.
Are you aware of our greatest enemy? The one who will try to make us lose hope and faith in Allah's mercy with his mischievous ways. Till the very end, Shaytan had promised to deviate us from the truth and make us known to the pits of Hell by feeding us constant doubts of the religion and ultimately leading us to commit shirk.
Join Islamic Help in an intriguing and informative seminar by Shaykh Kauther Ali to gain a deeper understanding of Waswasa (whispers of Shaytan), who Shaytan is, his promise, the symptoms of Waswasa and how to abstain from falling into his traps and committing minor to major sins.
Brief outline of topics covered:
• Who is shaytan? | Shaytans Promise | What is Waswasa?
• Symptoms of Waswasa
• Shaytans Trickery and Allah's Mercy
• Solution – How to Silence Shaytans Silent Whispers
THE TEACHER
Shaykh Kauther Ali – a graduate of Darul Uloom and is well known on the classical lecture circuit for his accessible and carefully crafted presentations on Tafseer. He prefers to engage his audience by upholding the timeless messages and morals of the Holy Qur'an whilst constantly pointing to their modern-day relevance. It is this contemporary approach which, with Allah's permission, has enabled him to become a mainstay behind the lectern at several different UK universities and at learning retreats across the country.
A teacher of Maths, Religious Studies and Arabic at a secondary school, his passion for teaching and inspirational talk has also granted him work as a leader and co-ordinator of tour guides to the many famous holy sites across the Middle East and the Hijaz. He has knowledge of Fushah Arabic and is haafizul Qur'an. He loves to use blessings such as these to explore the meanings and nuances behind the pearls and precious histories set within Islamic culture, maximising the enjoyment and wonder for other students.
TERMS & CONDITIONS AND EVENT RULES:
1. Strictly no video or audio recording is allowed.
2. Please try to wear a mask to help prevent the spread of Covid-19.
3. If you have any Covid-19 symptoms, please do not attend this event.
4. Seating will be segregated and is on a first-come, first-served basis, this means if you arrive late, there is a chance you will not be allowed to enter the venue as there is a seating capacity. Due to the number of people who book tickets and then do not turn up to events, we need to oversubscribe for the events.
5. Organisers reserve the right to refuse entry or evict any individual or group at any time at the organisers discretion.
6. Your ticket has no monetary value, we will not provide any cash or financial refunds.
CHILDREN:
PLEASE NOTE, THIS SEMINAR WILL DISCUSS SOME TOPICS WHICH MAY FRIGHTEN YOUNG CHILDREN, IF YOU THINK YOUR CHILD MAY BE FRIGHTENED BY THE TOPICS OF JINN OR EVIL SPIRITS PLEASE DO NOT LET THEM ATTEND THIS SEMINAR.
We appreciate that it can be difficult to attend valuable seminars when you have children to take care of and its difficult to find a child minder. Children are welcome to attend this event with you however they must be kept with you at all times. If your child is restless or makes a lot of noise, please do not bring them to this event as they will disturb other attendees and the seminar instructor. If your child makes a lot of noise and you are unable to calm them down, if they continue to run around the venue or between the seating areas, we will unfortunately have to ask you to leave. If you bring your child in a pram / push chair please DO NOT block the pathway with the pram / push chair as this will cause a health and safety issue and we will ask you to move or leave.
NOTE:
Food will not be served at this event, as this event is in the evening, we appreciate that some people might want to bring food with them, this is perfectly fine however please try to avoid any food which carries a strong smell as this could disturb other attendees. We will try our best to have a snack stall available during the event where items can be purchased.
During this seminar, we will have a short fundraising segment to support Islamic Help's Humanitarian Aid Projects.
PLEASE SHARE THIS POSTER WITH YOUR CONTACTS!
---
Location:
Bia Lounge
45-47 Golden Hillock Road
Birmingham , B10 0JU United Kingdom
+ Google Map

---
More upcoming events