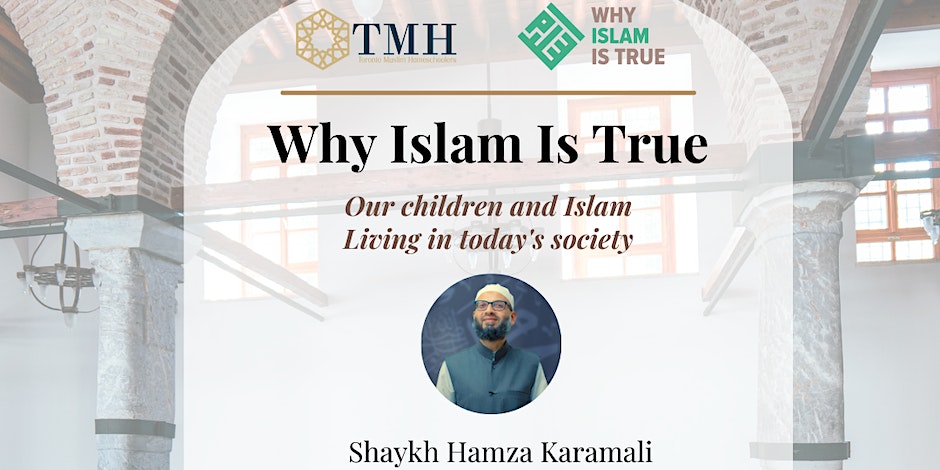 Description:
Have you heard of someone close to you leaving Islam and wished you had helped them with their journey to Islam?
Do your children ask you difficult questions about the deen, that you are not confident in answering?
Are you concerned about your children's Islamic foundation, as they are exposed to non-Muslim friends and society?
Are you worried that you're not giving your children inspiring and enlightening answers?
If you've answered, yes to one or more questions, then, attending "Why Islam Is True" by Sh. Hamza Karamali would be a great decision for you and your family!
Come join parents on this one-day condensed course is an evidence-based inquiry into the fundamental truths of Islam. Help Muslim youth see clearly that Islam is not a cultural preference but a clear fact. Follow Sh. Hamza – an experienced theologian – who is here in the GTA training, imams, alims, alimas, mosque leaders, on responding to common and difficult questions many youth experience growing up as Muslims, in today's society.
Sh. Hamza will be covering:
– Understanding reasons why youth are leaving Islam and demonstrating solutions for Muslim parents, to proactively prevent this in their homes
– Discussing how to provide open dialogue where your children feel safe discussing these topics at home
– Examples, conversation blueprints on how to talk to your children at home
For those that would like to hear some preparatory information, they can subscribe to a 5-part free video series from the
www.whyislamistrue.com website
JOIN US ON
Date: Thursday August 17, 2023
Time: 6-10pm
Location: Madaniyya Academy, 3930 Nashua Dr, Mississauga, ON L4V 1M5
Price: $10 per person
Learn more about Sh. Hamza Karamali Biography
https://www.basiraeducation.org/our-teachers
Hamza Karamali earned his BASc And MASc in Computer Engineering at the University of Toronto, after which he moved abroad to study the Islamic sciences full-time in private one-on-one settings with distinguished traditional scholars in Kuwait, UAE, and Jordan, reading and memorizing traditional works in all of the Islamic sciences, and earning Bachelor's and Master's degrees in Islamic Law and Legal Theory from Jamia Nizamiyya in Hyderabad, India.
He specializes in developing authentically Muslim responses to the problem of atheism (visit his personal website: www.hamzakaramali.com). He is developing The Thinking Muslim's Guide to Atheist Arguments (a free YouTube series) as well as a curriculum of courses that are designed to take our Islamic education to a new level by basing all of their conclusions on rational evidence. All of his work is grounded in the scholarly traditions of traditional Muslim seminaries such as al-Azhar of Cairo, the Qarawiyyin of Fez, the Zaytuna of Tunisia, and the Deoband of India. He has described the evidence-based curriculum of these classical seminaries in his The Madrasa Curriculum in Context, and will develop that scholarly vision further in a forthcoming work that presents traditional Islamic logic in the idiom of contemporary logic and philosophy.
He has taught the Islamic sciences online at SunniPath.com, then at Qibla.com, then taught advanced Arabic grammar and rhetoric at Qasid Institute, and then joined Kalam Research & Media, where he worked for three years, designing, managing, and participating in research and education projects around the integration of modern analytic philosophy and science with traditional Islamic theology and logic.
In the summer of 2019, he founded Basira Education to fill a gap in the religious education of Muslims in the modern world — his goal at Basira is to develop a deploy an original seminary-level curriculum that is grounded in the traditional Islamic sciences but fully integrates modern science and culture into an intelligent and God-centered worldview.
---
Location:
Madaniyya Academy
3930 Nashua Dr
Mississauga , Ontario L4V 1M5 Canada
+ Google Map

---
More upcoming events