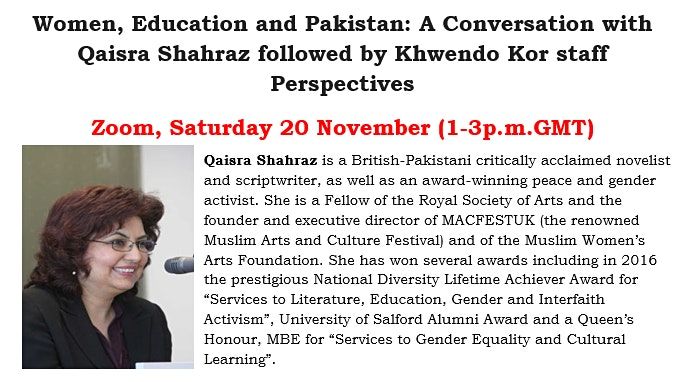 Description:
Donate to FROK Qaisra Shahraz is a British-Pakistani critically acclaimed novelist and scriptwriter, as well as an award-winning peace and gender activist. She is a Fellow of the Royal Society of Arts and the founder and executive director of MACFESTUK (the renowned Muslim Arts and Culture Festival) and of the Muslim Women's Arts Foundation. She has won several awards including in 2016 the prestigious National Diversity Lifetime Achiever Award for "Services to Literature, Education, Gender and Interfaith Activism", University of Salford Alumni Award, and a Queen's Honour, MBE for "Services to Gender Equality and Cultural Learning".
Her novels, The Holy Woman, Typhoon, and Revolt are translated into several languages including in Mandarin. She has appeared in many international writers' festivals and book fairs and her work is being studied in schools and universities.
Qaisra Shahraz has enjoyed another successful career in education as a former Ofsted inspector, a quality manager, and a teacher trainer. She has devoted her energy to interfaith work and community cohesion via various charities, such as Faith Network for Manchester and We Stand together. She continues to promote messages of peace and tolerance through MACFEST's slogan "Spread Honey Not Hate".
At this event, Qaisra will be in conversation (with Prof Claire Chambers, University of York and FROK Trustee) on three subjects close to her heart: women, education, and Pakistan. They will also talk about her body of writing, which Claire has long admired and written about. The "in conversation" discussion will be followed by an audience Q&A.
In the event's second half, staff members from Khwendo Kor will talk about their work on the ground with women and their communities in northwest Pakistan and answer any questions. Khwendo Kor's work has at its core their vision of 'A compassionate society where women and girls live with dignity and self-reliance' (www.khwendokor.org).
Link to join Zoom Meeting will be posted closer to the date:
Donate to FROK
---
---
More upcoming events