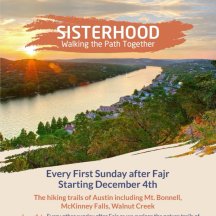 Description:
Join us very first Sunday of the month after Fajr as we explore the nature trails of Austin and deepen our sisterhood with our fellow muslimahs! 
The hiking trails of Austin including Mt. Bonnell, McKinney Falls, and Walnut Creek. Trails will be posted on an established WhatsApp group inshAllah.
Sunday, December 4th after Fajr: Sisters' Dhikr Hike with Chaplain Sondos Kholaki
Chaplain Sondos Kholaki serves as a hospital staff chaplain and a community chaplain in Southern California. She is board-certified with the Association of Professional Chaplains (APC). Sondos earned a Master of Divinity degree in Islamic Chaplaincy at the Claremont School of Theology/Bayan Islamic Graduate School as the recipient of the Fathi Osman Academic Excellence award and a Bachelor's degree in English and Creative Writing from UCLA, where she received the prestigious Regents Scholar award. Sondos completed five units of Clinical Pastoral Education (CPE) and served as the program's first Muslim chaplain ministering to all faiths but focusing on Muslim patient care. She is the author of "Musings of a Muslim Chaplain" (2020) and a co-editor of the book, "Mantle of Mercy: Islamic Chaplaincy in North America" (fall 2021). Sondos also serves as Vice President of Healthcare for the Association of Muslim Chaplains (AMC).
Sondos enjoys sipping a perfectly brewed cup of coffee, listening to Qur'an recitation by Turkish reciters, and singing her heart out at spiritual gatherings. Sondos lives in Southern California with her husband, son, and daughter.
---
Location:
Masjid Khadijah
5110 Manor Rd
Austin , Texas 78723 United States
+ Google Map

---
More upcoming events